Club Connect: Meet the ... Unified Black Students Society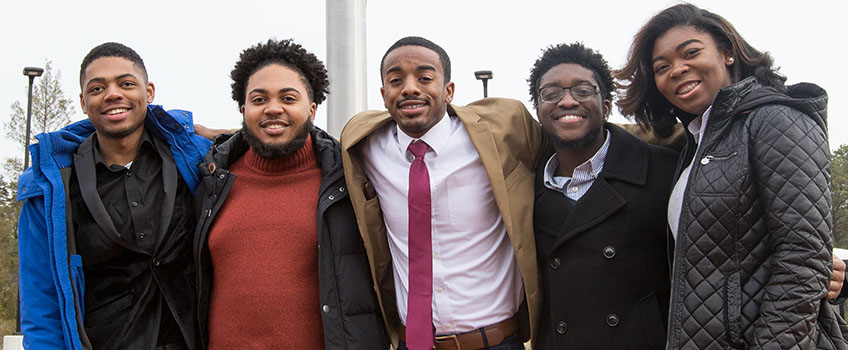 The Unified Black Students Society, also known as UBSS, plans a variety of educational, social and cultural programs for the community while working with administrators, faculty and staff to address issues related to minority student life.
"Our message is to treat people equally" said Haashiam Smith-Johnson, President of UBSS (pictured center). "We assist with relations involving people of all colors. Every year, we host events like the Kwanza Ball and UBSS Fashion show."
On Feb. 1, UBSS hosted a flag raising ceremony, where members of the club raised the Pan-African flag onto the main flagpole in the Arts & Sciences circle.
Throughout the rest of February, the group will host a number of events to celebrate Black History Month.
The club will sponsor a pre-screening of the film Black Panther at 6 p.m. Friday, Feb 16 at the Hamilton Commons. Tickets are on sale at the Campus Center Information Desk. The UBSS Annual Fashion Show will be held at 8 p.m. Thursday, Feb. 22 in the Campus Center Event Room.
UBSS invites students to meetings every Thursday at 4:30 p.m. in F225.
To learn more about Stockton UBSS visit stockton.edu/ospreyhub. For more information on Black History Month events visit https://stockton.edu/events/black-history-month-2018.html.
_ Reported by Marielena Dottoli & Jessica Jacob