Campus Connect: Meet the...Pakistani Student Association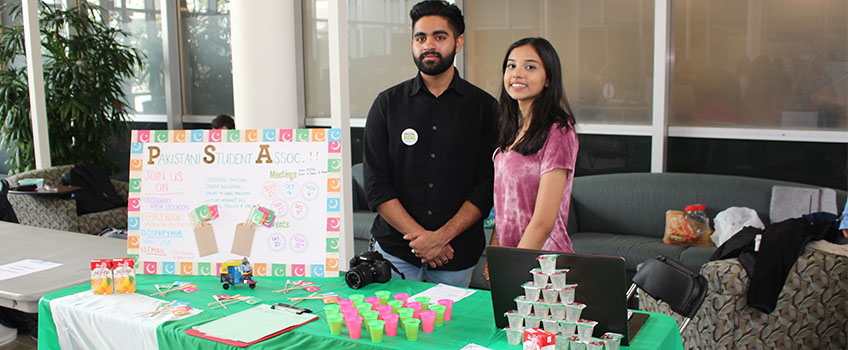 Galloway, N.J.-The Pakistani Student Association (PSA), one of Stockton's newer clubs, aims to educate all types of students about Pakistani culture. To join the club, all that is required is an interest in learning about Pakistani people, culture, and food.
The Pakistani Student Association welcomes all students, no matter their ethnic background. The goal of this club is to spread cultural diversity and awareness while building a bridge between Pakistanis and non-Pakistanis. The PSA is all about creating a welcoming, friendly space for all students to gather and experience new traditions not familiar to them.
PSA welcomes new members to join the group for some exciting events scheduled this semester. Treasurer, Asma Ahmad, said that they are planning fun activities including karaoke, food trucks, and party nights.
On Sept. 26, the PSA set up a table near Dunkin Donuts in the Campus Center to give out some tasty Kulfi (ice cream) and Mehndi. Mehndi, otherwise known as a henna tattoo, is a form of body art, created by the powdered dry leaves from the henna plant that is very popular in the Pakistani culture. They are beautiful, creative, and wash off after a couple of weeks. More events like this will be happening throughout the semester, so stay updated by signing up on Osprey Hub.
The PSA's next event will be a Samosa & mango Lassi table on October 10 by Dunkin' Donuts in the Campus Center from 11:30 a.m. to 2:30 p.m.. Meetings are held every three weeks on Tuesdays from 4:30-5:45 p.m.. The next meeting is Tuesday, Oct. 16.
To learn more about Pakistani Student Association or the 150+ clubs and organizations Stockton offers, visit OspreyHub
- Reported by Chelsea Doherty
# # #
Contact:
Diane D'Amico
Director of News and Media Relations
Galloway, N.J. 08205
Diane.D'Amico@stockton.edu
609-652-4593
609-412-8069
stockton.edu/media