Campus Connect: Meet the Stockton Great Outdoors Club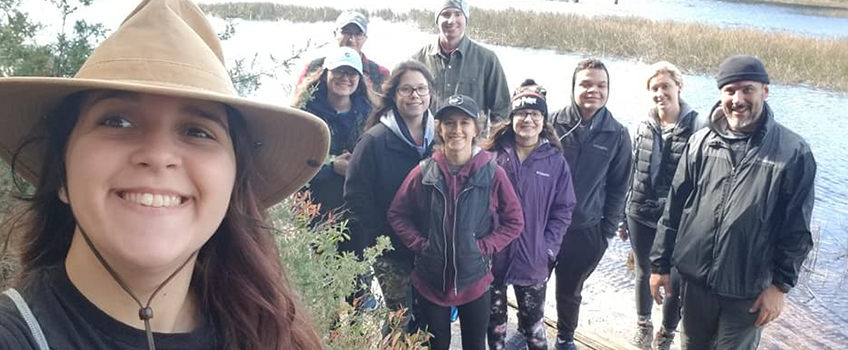 Galloway, N.J. - Celebrate the joy of nature with the Stockton Great Outdoors Club (SGOC). Started this year by club president, Cara Gervasi, club members are excited to create lasting memories with Stockton students who enjoy being outside.
When Gervasi transferred to Stockton last year, the first club she looked for at the Get Involved Fair was one that had to do with going on hikes, and doing camping-related activities. Seeing that Stockton did not yet offer that type of club, Gervasi took matters in her own hands and decided to start one herself.
Currently the group is planning different outdoor excursions for the semester. Their goal is to host about two a month. All excursions will take place either on a Saturday or Sunday, so students will not have to miss any classes. These trips include hiking, kayaking, camping, tubing and much more.
All activities will be held within the local area to make transportation easier. Their first trip was on Saturday, September 29th, tubing at Atlantic County's Great Egg Harbor River.
On their most recent trip, the group explored a hiking trail at Wharton State Park. Although it was a chilly day, the breathtaking views made the trek worth it. In November, the club is planning an end of the semester trip to Mount Vernon.
Gervasi talked about how much fun the group's first trip was.
"It was only the first of many, and new friendships are already starting to be made," she said.
The group meets every other Thursday at 5 p.m. in F-206. Anyone interested in the activities and trips, stop by a meeting to find out more, or sign up on Osprey Hub. The group is always looking for suggestions on new places to explore.
Vice President, Allyson Sheets said even if students cannot make it to the meetings, they are still invited to attend SGOC excursions as long as they keep up with the emails and sign all required waivers.
Stay connected with the Stockton Great Outdoors Club on Instagram @stocktongreatoutdoors for updates and new information.
To learn more about Stockton Great Outdoors Club or the 150+ clubs and organizations Stockton offers, please visit https://stockton.campuslabs.com/engage.
Reported by Chelsea Doherty
# # #
Contact:
Diane D'Amico
Director of News and Media Relations
Galloway, N.J. 08205
Diane.D'Amico@stockton.edu
609-652-4593
609-412-8069
stockton.edu/media