Club Connect: Meet the ... Commuters on the Go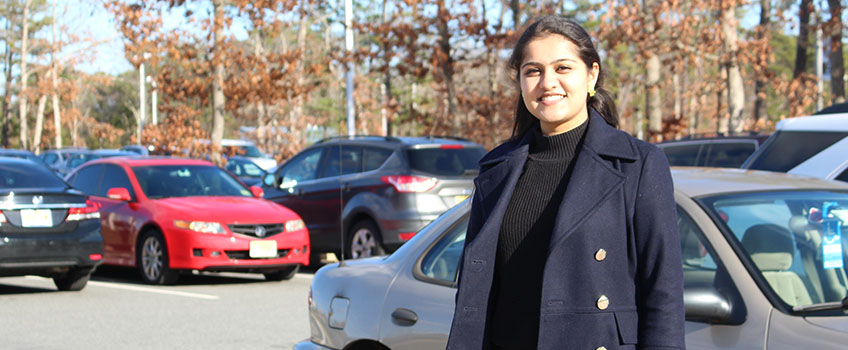 Tips for Commuter Students by Commuter Students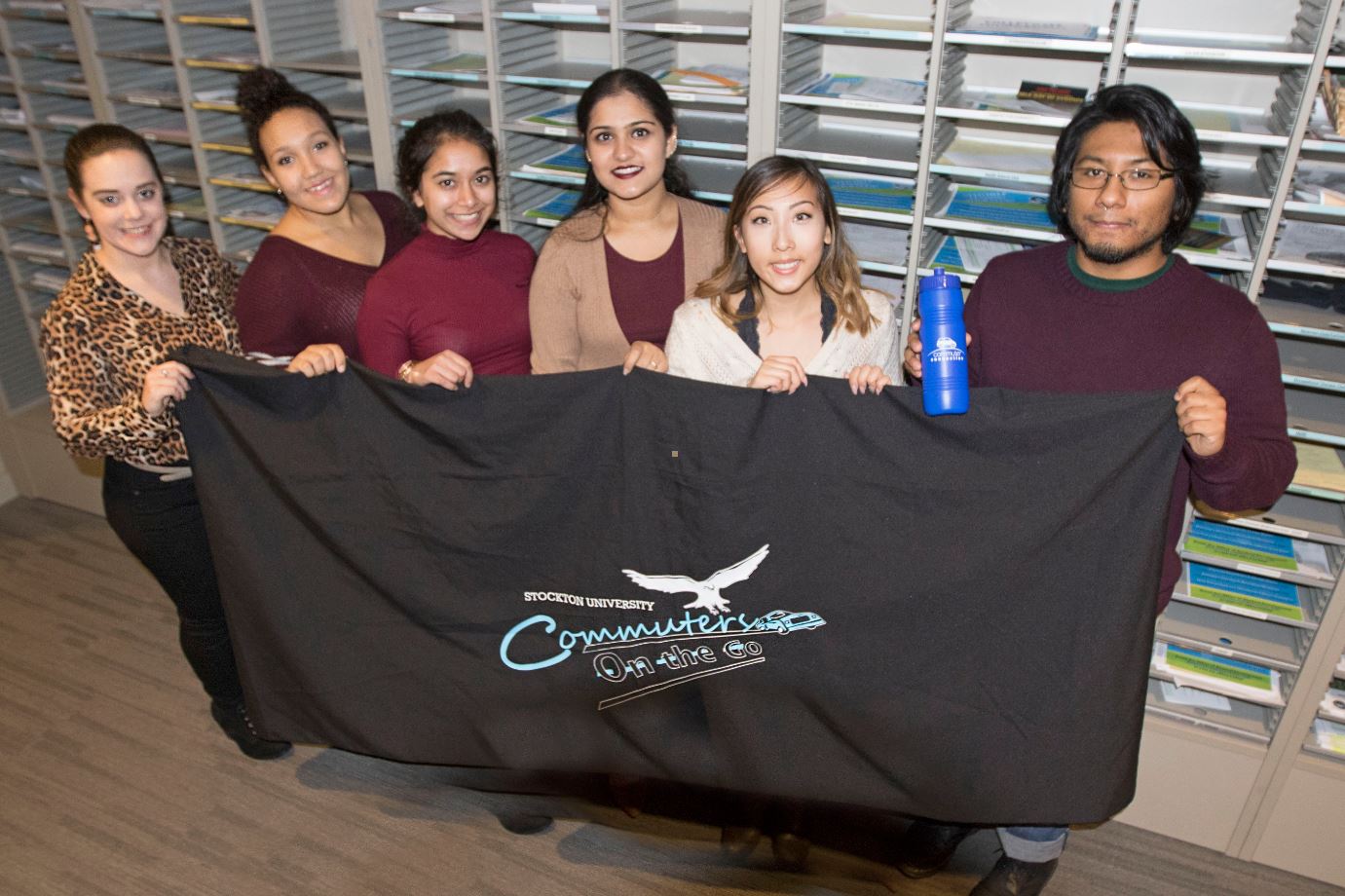 Get here early to find parking.
Be comfortable parking far away and use the transit options (e.g. shuttles) available on campus. Visit the Ride Systems app to view live shuttle tracking.
Use the commuter lockers to store your belongings and save yourself trips to and from your car.
If you're interested in carpooling, stop by Student Development to fill out a form to find your carpooling buddy.
Never eat lunch in your car! There are loads of friends at Stockton and multiple events happening all day, every day.
Use your time on campus efficiently by utilizing all the resources and services offered by Stockton.
Take risks and put yourself out there.
Get involved! Don't forget to stop by meetings for Commuters on the Go, the only commuter organization on campus.
Get connected! Start talking to the people around you and become a part of the Stockton community.
Did we mention – get here early to find parking!
Life is a highway, I wanna ride it … to Stockton. That could be the theme song for thousands of Stockton University students who commute to class.
Approximately two-thirds of Stockton University students are commuters, which means that over 6,000 graduate and undergraduate students do not live on campus. Some commute just a few miles and others travel over 30 miles to the university.
To serve its large population of commuter students, Stockton offers programs, clubs, events and other resources to build community and make the commute easier.
"I remember being very nervous coming in to Stockton as a commuter," said Zeal Kamdar, a senior Biochemistry & Molecular Biology major from Egg Harbor Township. "I wanted the full college experience, but I was afraid that being a commuter would take me away from that."
Kamdar had many of the same worries as a lot commuter students do today: "How will I get involved on campus? How will I make friends? Are there things for me to do while I'm on campus?"
Luckily, Kamdar was introduced to Commuters on the Go and the rest is history.
Commuters on the Go is a student-run club that advocates for commuter students and hosts on-campus events to create a community at Stockton. Kamdar is the club's current president. Other E-Board members include sophomore Alexandrea Cannon, junior Jenna Luu, sophomore Millie Shah and senior Jorge Azcona.
The club welcomes all students, including residents, to join their organization.
"Having this club really allowed me to relate to people in my situation and have a place within this school," said Janna Luu, a junior Health Science major from Egg Harbor Township. "Instead of being someone who was just hidden within the school, I became someone who was able to have a voice."
In addition to Commuters on the Go, Stockton offers many resources to serve the needs of commuter students. Parking permits and lot maps are available online at stockton.edu/parking. Once registered, commuter students can utilize Lots 0-7, Lot 8 and North Lot. Stockton Affiliated Services Inc. (SASI) provides shuttle services for the entire Stockton community. Shuttle information is available online and anyone with a smartphone can live-track the shuttles using the Ride Systems app.
Stockton also offers commuter lockers and potential carpooling options, available through the Office of Student Development. Visit the Commuter Connection for information on transit/shuttle services and Stockton's child care services at our Free to Be Learning Center.
Commuter students have the option to purchase a meal plan. OspreyHub, Stockton's online club and organization database, makes it easy to see what events are happening on campus and what clubs students can join.
"Although I was a commuter, I was still able to get very involved on campus and build my extracurriculars," said Millie Shah a Biochemistry & Molecular Biology major. "I still felt as if I had the same opportunities as my friends who were residents since, ultimately, the college experience is what you make of it."
"As is the case with most things, commuting has its pros and cons," said Kamdar. "A big complaint about commuting that I hear is that there is nothing happening at Stockton or there is no way to get involved. I strongly disagree. Stockton provides so many ways to get involved and become a part of the Stockton community. There is always something happening every day."
In addition to all of the events going on around campus daily, Commuters on the Go will also host a number of events open to the entire Stockton community during the first annual Commuter Spirit Week from March 26-30.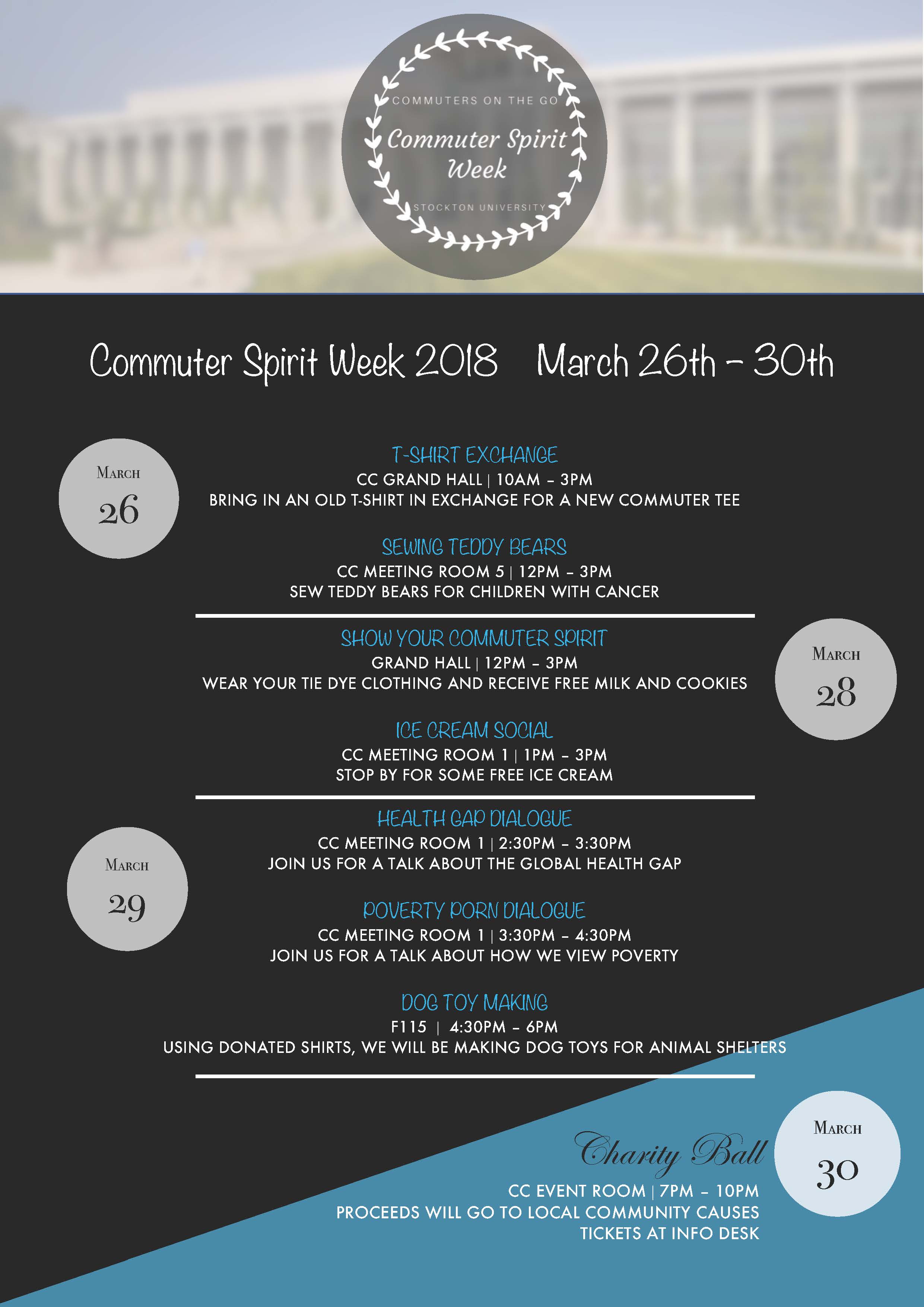 Throughout the week, the club will host eight events promoting service, fun, education and community building and engagement. Events include:
A t-shirt exchange from 10 a.m. – 3 p.m., March 26 in the Campus Center Grand Hall,
Sewing Teddy Bears for children with cancer from 12-3 p.m., March 26 in Campus Center Meeting Room 5,
A Health Gap Dialogue from 2:30-3:30 p.m., March 29 in Campus Center Meeting Room 1
A Charity Ball from 7-10 p.m., March 30 in the Campus Center Event Room. All proceeds from the Ball will go to local community causes. Tickets can be purchased at the Campus Center Information Desk.
Overall, Kamdar believes that the resources that Stockton offers and the effort that she has put into her career here at Stockton has enabled her to become successful.
"After four years as a commuter, I have realized that, yes, being a commuter gives you different experiences and problems than those of residential students," said Kamdar. "But honestly, I wouldn't do Stockton any other way."
"My biggest advice to commuters is to put yourselves out there. Get connected with your classmates, professors, and staff. It doesn't matter whether you are a resident or a commuter, getting involved takes some effort on your part because Stockton does an amazing job providing the opportunities for you," said Kamdar.
To learn more about Commuters on the Go, visit OspreyHub. For more information on commuter resources at Stockton, visit the Commuter Connection.
_Reported by Marielena Dottoli