'Choose' Campaign Wins Three National Marketing Awards
Galloway, N.J. – Stockton University's "Choose Stockton Campaign" has received top awards in three prominent marketing competitions.
The marketing campaign features Stockton students and alumni and highlights why they chose Stockton. The state-wide multi-media advertising plan was created to increase awareness and promote the distinctive quality and value of Stockton University. The objective is to develop and deliver a positive message that will resonate with prospective students (including transfers), parents, guidance counselors and other influencers.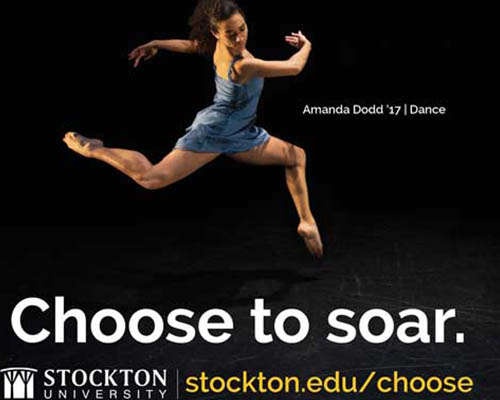 AVA Digital Awards gave Stockton University a Platinum award, their highest honor, in the Digital Marketing Division- Integrated Marketing category. AVA Digital Awards is an international competition that recognizes excellence by creative professionals responsible for the planning, concept, direction, design and production of digital communication.
Stockton University was awarded Silver for Institutional Marketing & Identity Branding from the CASE District II Accolades Awards. CASE, the Council for Advancement and Support of Education, serves educational institutions and the advancement professionals who work on their behalf in alumni relations, communications, development, marketing and allied areas. District II is the largest region in CASE. Stockton was the only institution awarded Silver in this category. No Gold awards were given.
Stockton was also given Silver by Education Digital Marketing Awards for the Total Digital Marketing Program category. The Education Digital Marketing Awards recognizes the best educational websites, digital content, electronic communications, mobile media and social media. This year, over 1,000 entries were received from colleges, universities and secondary schools. Silver was awarded to 86 institutions.
Stockton welcomed its largest freshman class ever in September 2017, with 1,569 new students, a record 32 percent increase from 1,190 freshmen in fall 2016.
Geoffrey Pettifer, Executive Director of University Relations & Marketing, said that this campaign, in cooperation with admissions efforts, was a key contributor to this year's enrollment success.
The Choose campaign was a collaborative effort between University Relations & Marketing and Production Services.
"The creativity and energy of the Choose team really drove the momentum of the entire campaign," Pettifer said. "It is rewarding to know that hard work, creativity, passion, dedication and excellence is recognized among peers in higher education, public, private and international business sectors," he said.
# # #
Contact:
Diane D'Amico
Director of News and Media Relations
Galloway, N.J. 08205
Diane.D'Amico@stockton.edu
609-652-4593
stockton.edu/media