Council of Black Faculty and Staff Honors Eight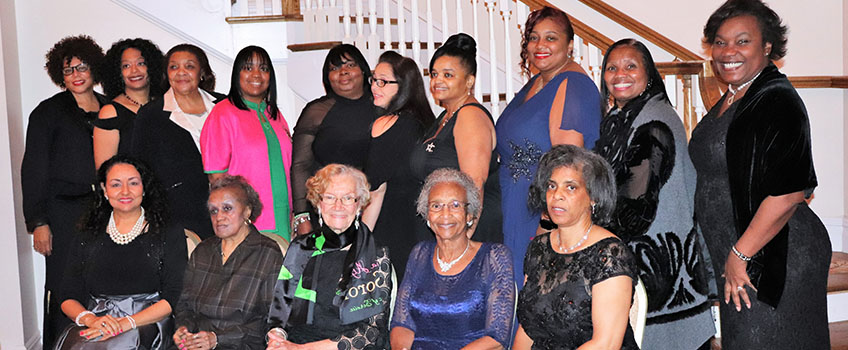 Galloway, NJ -The Council of Black Faculty and Staff honored seven Stockton University faculty, staff and alumni, and a Stockton club at the 37th annual Council Awards Dinner & Dance Nov. 9 at The Carriage House.
Nearly 300 people attended the event, which raises money for student scholarships. The group has raised more than $300,000 to date.
A Special Recognition Award was presented by Brian Jackson, chief operating officer of Stockton Atlantic City, to Dr. Juanita High, retired administrator and Foundation Board of Directors member.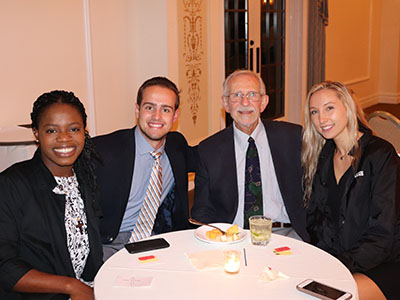 Stephen Davis, assistant vice president of Inclusion and Wellness and dean of students, presented Lifetime Achievement Awards to Atlantic City Councilman Kaleem Shabazz and Dr. Walter Tarver III, assistant vice president of Transitions and Retention at Stockton.
Ayisha Lee, assistant to the chief development officer and Foundation Board liaison, presented a Merit Award to Diane Epps, retired administrator. Ryan Terrell, assistant director of Admissions, presented a Merit Award to Dr. Maralyn Mason, executive director of Stockton's Educational Opportunity Fund.
Director of Alumni Relations Sara Faurot presented the Distinguished Alumni Award to Raymond Royster '05, a victim witness coordinator with the Atlantic County Prosecutor's Office, and the Rev. Adriane Larau Blair Wise '91, a minister at Metropolitan Baptist Church in Largo, Maryland.
The Outstanding Stockton University Club Award went to the Highest Praise Gospel Choir, which was represented by the student members and founder Dr. Beverly Vaughn and advisor Dianne Stalling.
Scholarship recipients Ki'tra Hunter and Deon Davis, a student member of the Board of Trustees, spoke about how the funds are helping them earn a degree so they can help others.
Patricia W. Collins is president of the Council of Black Faculty and Staff. Adjunct faculty member Louise Gorham-Neblett and Assistant Director, Student Development Dianne Stalling served as co-mistresses of ceremonies.
View a gallery of photos from the event.
# # #
Contact:
Stacey Clapp
Director of Digital Engagement
Galloway, N.J. 08205
Stacey.Clapp@Stockton.edu
609-652-3645
stockton.edu/media