Alumni Share Tips for Success at Fall Career Fair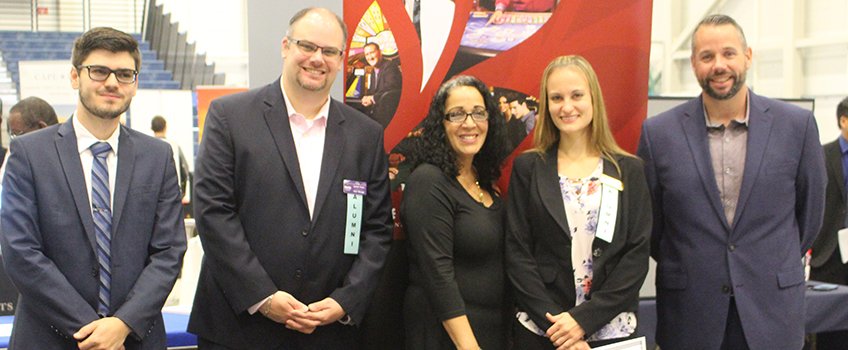 Galloway, N.J. – Some of the employers meeting with Stockton students during Stockton's fall Career and Internship Fair on Oct 4, were once Ospreys themselves. A common piece of advice they shared is to gain as much internship and work experience as possible while in college.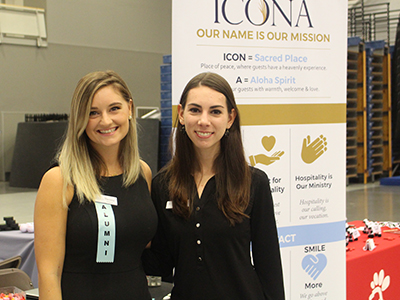 Laura Martin, assistant manager of hotel operations at Caesars in Atlantic City, graduated from Stockton in 2008. She was a hospitality management major, and now has her dream job 10 years later. Martin said her well-rounded internship experience at Bally's in Atlantic City helped her learn about all different aspects of the hospitality industry.
"It got my foot in the door and I got a well-rounded view of different areas of the industry," she said.
Carmen Russo, also a 2008 graduate, is a hotel manager at Harrah's in Atlantic City. While he was at Stockton as a business marketing major, Russo already had a job at the casino hotel.
"I started out as a health club attendant," he said, then starting working his way up. "I got promoted to supervisor while I was still in Stockton. I used to come to class in a suit, then go to work."
Theresa Messina, a recent 2017 graduate, works on the sales and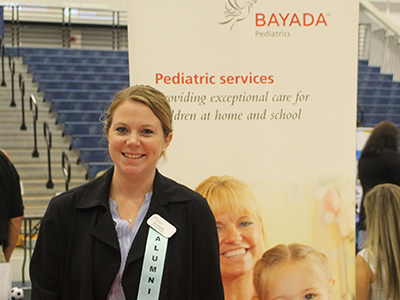 marketing team of the hotel chain, Icona. Messina, who majored in communication with a minor in business marketing, got her first internship at Townsquare Media, a company she met at the Career and Internship Fair in 2016. She also connected with her current company, Icona, at the fair the next year.
Not everyone gets their dream job right out of college. Erin Gorman, recruiting manager at Bayada Pediatrics, said it can take time to get your ideal job. As a 2016 Stockton graduate who majored in public health, Gorman was an intern for the healthcare company, Virtua. She took a job there after graduating, but realized that she was not being challenged enough in her position. She knew it was time for a change.
After a long four-month interview process, Gorman was hired as an associate for Bayada Pediatrics. Soon after, she was promoted to recruiting manager, and now has her dream job.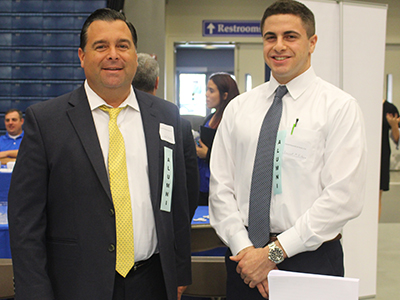 "Finding your niche is important," Gorman said, adding she also looked for a job with potential for career growth.
Stockton alumni Vincent Calderone, and John Moller work for the same company, but got there through different paths. Moller, a 1994 Stockton graduate got his accounting job at Capaldi Reynolds & Pelosi after sending his resume to as many employers as possible and eventually landed an interview. Calderone, '16, got an internship with the company after meeting them at the Career and Internship fair, then was eventually hired full time as a staff accountant.
Calderone, an accounting and finance major, said getting thrown right into the accounting field during tax season was the best thing that happened to him. Gaining all that experience during a stressful time put him on the fast track for success, as well as made him aware of what would be required of him during the hardest parts of his job. He said it is important to make connections, and to not be shy.
More than 90 employers participated in the fall event, cordinated by the Stockton Career Center.
View a gallery of photos on flicker
- Reported by Chelsea Doherty
# # #
Contact:
Diane D'Amico
Director of News and Media Relations
Galloway, N.J. 08205
Diane.D'Amico@stockton.edu
609-652-4593
609-412-8069
stockton.edu/media