Club Connect: Meet She's The First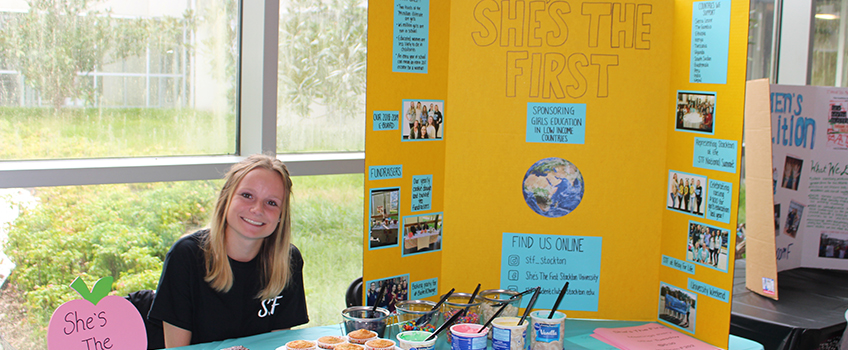 Galloway, N.J. - Interested in fighting gender inequality within education? "She's the First" (STF) is bringing awareness to the lack of education for girls in low-income countries. The goal of this club is to raise scholarship money for girls who have not been able to receive a proper education.
With help from She's The First, participating girls will be on a track to become first-generation graduates and future global leaders. Last year the Stockton club was able to raise $800.
She's The First holds many different types of fundraisers here at Stockton. Previously, they have held bake sales, and sold bubble tea and edible cookie dough. STF is a great club to become part of in order to gain leadership experience while also becoming a change-maker.
Stockton's chapter of STF is one of 200 campus chapters in the world. It was created in fall 2016 and is constantly looking to grow. Members of the group went to the She's The First summit in 2017 at New York University School of Law. There is a summit every year, so there is always a chance to learn more about what this impactful organization has in store.
The club has about 10 members so far, and is hoping to welcome many new members and exceed the $800 raised last year. This year's president is Larissa Scanlon. Meetings are held every other Tuesday at 5:30 p.m. in room F202.
To learn more about She's The First or the 150+ clubs and organizations Stockton offers, visit https://stockton.campuslabs.com/engage
Reported by Chelsea Doherty
# # #
Contact:
Diane D'Amico
Director of News and Media Relations
Galloway, N.J. 08205
Diane.DAmico@stockton.edu
609-652-4593
609-412-8069-cell
stockton.edu/media