Stockton Enrollment Increases 2 Percent for Fall 2018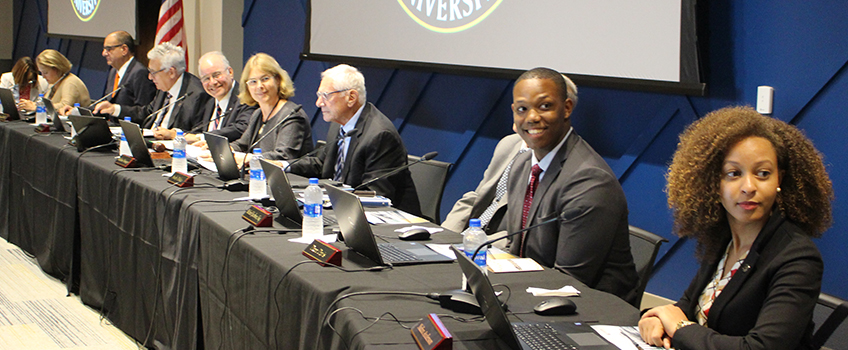 Galloway, N.J. _ Freshman enrollment at Stockton University increased 2 percent for fall 2018, continuing the trend of growth at the university.
A record 1,595 freshmen are enrolled this fall, Chief Enrollment Management Officer Robert Heinrich told the Board of Trustees at their first meeting in the new Atlantic City Academic Center on Wednesday.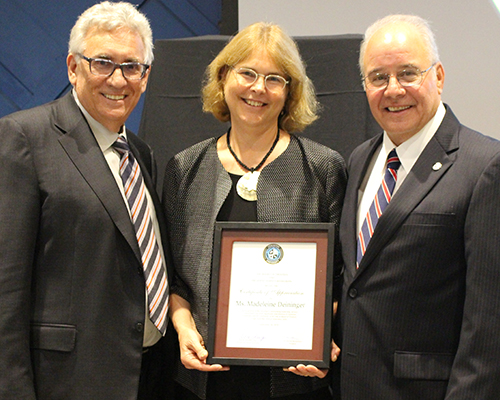 Transfer student enrollment also increased 3 percent to 1,017 students, and graduate enrollment also increased 3 percent to 404 students.
Overall there are 3,016 new students at Stockton this fall, a 2 percent increase.
Total enrollment at the university increased 4 percent to 9,621, of which 32 percent are minorities.
Stockton also had a 13 percent increase in summer enrollment with an increase of 24 percent in credits taken by more than 2,400 students.
In other business, Leo Schoffer was sworn in as the new chairman of the board, replacing Madeleine Deininger, who completed her term. Ray Ciccone will become vice chair. Sophomore Nadira Anderson, 19, of Bergenfield, was sworn in as the new student trustee alternate as Deon Davis of Atlantic City moves into the student trustee position. The board also recognized outgoing student trustee Ike Ejikeme.
Deininger thanked everyone for their support during her very active tenture as president.
"Last week's ribbon cutting just across the street felt to me as if the past, present and future of Stockton we coalescing right there on the Boardwalk," she said.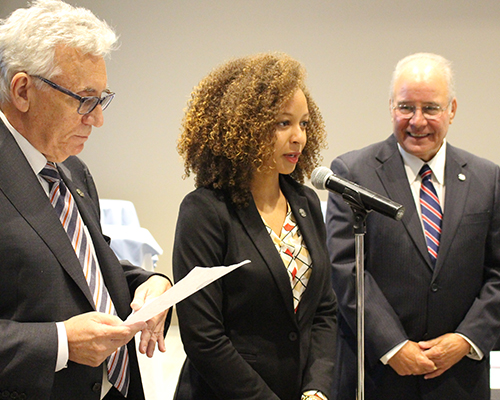 Schoffer outlined some goals for his tenure, including adding to the quality of student life, improving involvement and fundraising, and preparing for future development.
The board approved a new Bachelor of Arts program in Africana Studies, subject to review by the state. The program will offer opportunities for increased knowledge, pride and respect for the contributions of African Americans on this continent and abroad, and contribute to students' global awareness and understanding.
The board also approved a 20 percent per credit discount for AtlantiCare employees enrolling in the Doctor of Nursing Practice, Masters of Nursing and post-masters certificate programs. The goal is to address a shortage of nurse practitioners in the community. Employees of Virtua Health can also receive a 20 percent tuition and fee discount for undergraduate and graduate programs in the health professions.
Summer rental rates for the new Atlantic City Residential Complex on the Boardwalk were approved, with rates ranging from $22 to $50 per day, based on the size of the unit and whether they are Stockton students, non-students or faculty and staff. Stockton also offers a 12-month housing plan for students who want to remain in the summer. More than 150 students have registered for that option.
About 15 students attended the meeting to address their concerns about sexual assault on campus. Among their requests were more advocacy for sexual assault victims, increased resources and a dedicated site for the Women's Gender and Sexuality Center, a 24-hour rape crisis hotline, and more Green Dot and Osprey Advocate trainings.
Student Casey Rosamond said she wants the university to have resources that were not available to her when she was raped eight years ago.
"I am your student now," she said. "Please take this seriously. Students want to be here. I chose Stockton because I like the campus, I like the inclusive environment, I like the people."
Schoffer thanked the students for their concern for the university and their fellow students.
"We appreciate what you are here for and we hear you," he said.
Kesselman met briefly with the students after the meeting and said some of the items are already being addressed as part of the campus expansion.
# # #
Contact:
Diane D'Amico
Director of News and Media Relations
Galloway, N.J. 08205
Diane.D'Amico@stockton.edu
609-652-4593
stockton.edu/media