Black History Month Begins with Flag Raising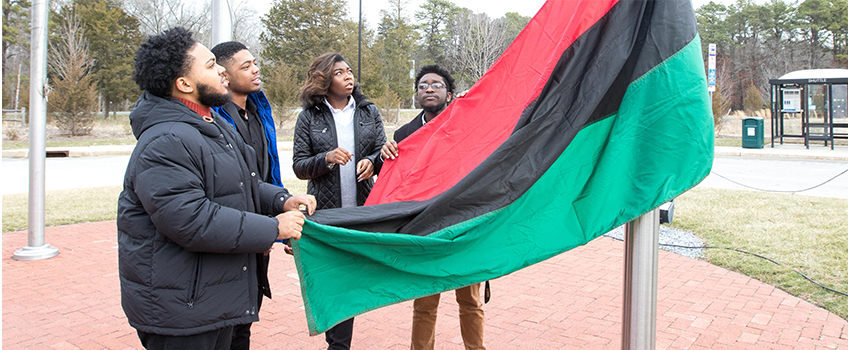 Galloway, NJ - The Pan-African Flag was raised in the center of the Arts and Humanities circle on Feb. 1, officially announcing the beginning of Black History Month at Stockton University.
While a flag now hangs permanently along the perimeter of the circle as the first of a series of flags cel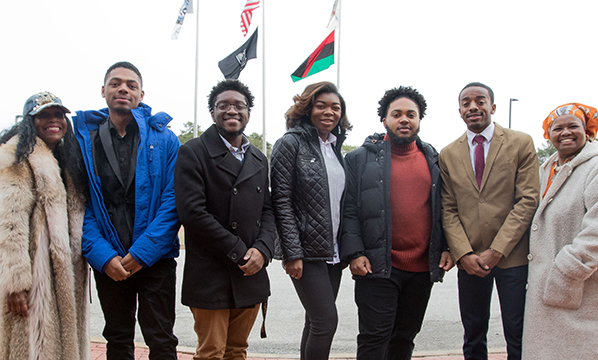 ebrating Stockton organizations and groups, Professor Donnetrice Allison said it is still important to have a ceremony raising it to honor Black History Month and its significance.
"This time, when we raise the flag, we do it in recognition of the importance of the telling, remembering and honoring of this history," she said.
Haashim Smith-Johnson of Camden, president of the Unified Black Students Society, which hosts the annual flag-raising, said the flag has a special meaning.
"This flag may be just fabric waving in the sky for one month to much of Stockton, but to our community, it's a flag that gives an identity to many who were unrightfully stripped of that privilege," he said. "This flag represents our fights against injustices in society."
He ended the ceremony by asking those present to remember history, but also continue to fight injustice.
"May we also remember that Black history did not begin with slavery, like we were basically taught," he said. "We shall continue to cherish and celebrate our African heritage and uplift each other as equals."
View a list of upcoming Black History Month events.
# # #
Contact:
Diane D'Amico
Director of News and Media Relations
Galloway, N.J. 08205
Diane.D'Amico@stockton.edu
(609) 652-4593
stockton.edu/media