Dave Lorber Named Head Baseball Coach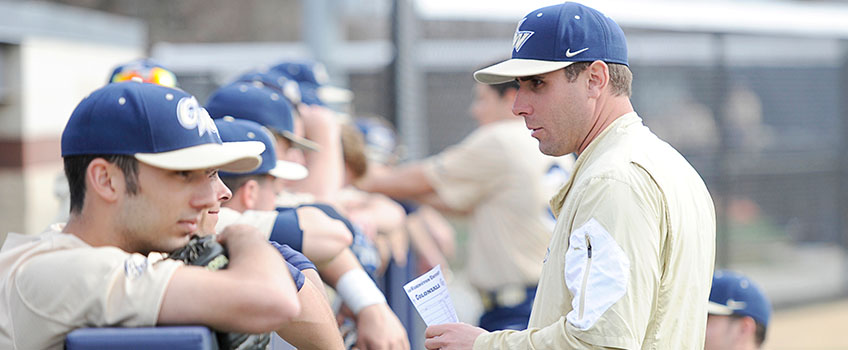 Galloway, NJ – Stockton University has selected Freehold, New Jersey native Dave Lorber as its first full-time head baseball coach. Lorber brings 10 years of experience as an assistant coach at the college level to his new role at Stockton, which has upgraded the head baseball coach position from part-time to full-time.
"I am honored to be named the first full-time baseball coach at Stockton University," Lorber said. "My goal is to impact the lives of our Stockton University student-athletes and give them a tremendous experience that will allow them to succeed not only on the baseball field but in life as well. I look forward to being back home in New Jersey where I grew up playing this great game."
Lorber spent the last six years as assistant coach and recruiting coordinator at George Washington University, where his responsibilities included working with the infielders, team defense and hitting in addition to coordinating the recruiting efforts for the NCAA Division I program. In 2015, he helped the Colonials set a school record with a .978 fielding percentage that was 20th in the nation.
George Washington qualified for the Atlantic-10 Tournament five times and surpassed the 30-win mark three times in Lorber's six years on the staff. The string of playoff appearances began with a 2013 berth that ended a five-year drought for the program. Lorber recruited and coached seven players who became Major League Baseball draft picks as well as one All-American and 10 all-conference performers.
Lorber also possesses college coaching experience from one season at Division I Stony Brook, a year-and-a-half apiece at Division II Felician College and Division III Eastern University plus one season at Brookdale Community College. With Lorber on the staff, Stony Brook reached the College World Series in 2012 and Eastern set a school record with 21 wins in 2010.
Lorber played one season at Central Connecticut State after two years at Brookdale Community College. He earned his bachelor's degree from Central Connecticut in 2008. Lorber will begin his role as Stockton's first full-time head baseball coach on January 7, taking over for Scott Baker who stepped away to pursue other endeavors.
# # #
Contact:
Chris Rollman
Sports Information Director
Stockton University
(609) 626-6011