'Lucid Dreams' at Noyes Arts Garage
NOYES ARTS GARAGE, A.C.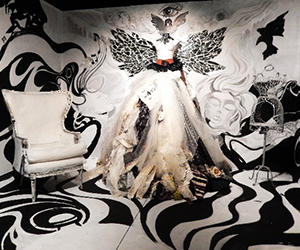 ATLANTIC CITY, N.J. - The Noyes Arts Garage of Stockton University is pleased to announce the unveiling of an exciting new art installation on Friday, December 14, 2018, from 5 – 9pm. The art installation, Lucid Dreams, was created by local artists Heather Deegan Hires and Heather Howley, owner of 209 West, a unique upholstery shop in the Arts Garage. The talented duo collaborated to create this whimsical walkthrough experience consisting of dream-like wall paintings and mixed-media installations. On the night of the inveiling, three models will serve as living canvases for Deegan Hires' body painting artistry.
NOYES GALLERY, THE NOYES ARTS GARAGE, ATLANTIC CITY:
Current Exhibitions:
∙ RAW 2018: PHOTOGRAPHY EXHIBITION Through January 26, 2019
Upcoming Exhibitions:
∙ DUCKTOWN February 2 - April 7, 2019
∙ THE LINKS: 50TH ANNUAL BLACK HISTORY ART EXHIBITION February 2 - April 7, 2019
∙ TOSHIKO TAKAEZU February 2 - April 7, 2019
ABOUT:
Noyes Museum Galleries, Stockton's Kramer Hall, 30 Front St., Hammonton, N.J. 08037 • (609) 626-3420 • www.noyesmuseum.org
Noyes Arts Garage: 2200 Fairmount Ave., Atlantic City, N.J. 08401 • (609) 626-3805 • http://www.artsgarageac.com
Contact:
Saskia Schmidt
Noyes Museum Director of Education
Hammonton, NJ 08037
Saskia.Schmidt@stockton.edu
(609) 626-3420