100th Anniversary of Armistice Day Celebrated at A.C. Campus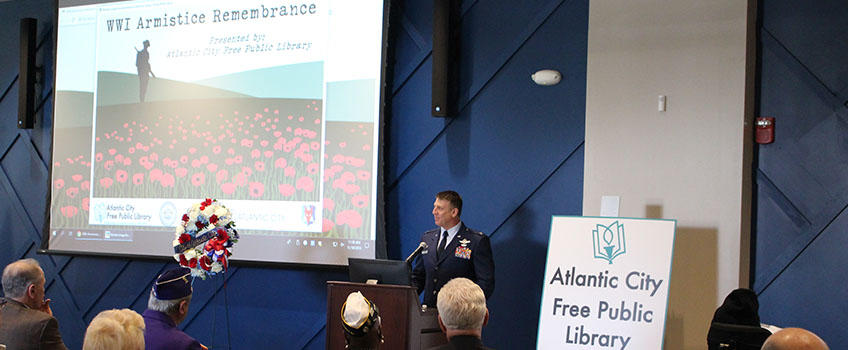 Atlantic City, N.J. _ The 100th Anniversary of Armistice Day was celebrated in Atlantic City with a ceremony at the Fannie Lou Hamer Event Room at Stockton University Atlantic City on Nov. 10. The event was coordinated by the Atlantic City Public Library and Library Director Robert Rynkiewicz welcomed the guests.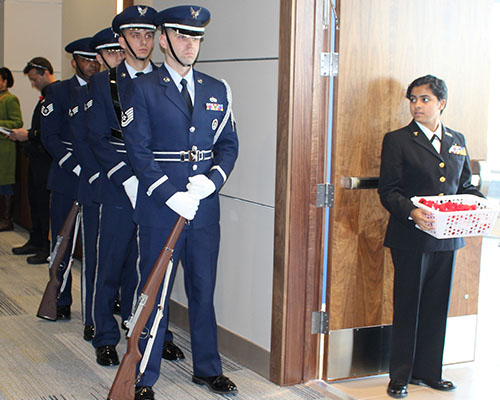 Keynote speaker was Colonel Bradford R. Everman, Commander of the 177th Fighter Wing, N.J. Air National Guard, who talked about New Jersey's role in World War I, then called the "war to end all wars."
Patricia Tatum, Commander of Kenneth B. Hawkins American Legion Post 61 of Atlantic City read the poem "In Flanders Field" by John McCrae which pays tribute to those who died in the war and gave rise to the red poppy as a memorial to the soldiers.
Members of the Stockton Show Choir led by Joseph Sramaty performed the Star Spangled Banner, and God Bless America.
Members of the 177th Fighter Wing presented and retired the colors. Students from the Atlantic City High School JROTC were among those in attendance.
The event ended with tours of the World War I monument in O'Donnell Park, across from the Stockton campus.
Other partners in the program were the Atlantic City Police Department; Cape May County Freeholder and retired Brigadier General Jeffrey Pierson; Patrick Carney from the U.S. Department of Veterans Affairs; and Michael R. Francis, veteran liaison for U.S. Rep. Frank LoBiondo.
View a gallery of photos on flickr.
# # #
Contact:
Diane D'Amico
Director of News and Media Relations
Stockton University
Galloway, N.J. 08205
Diane.DAmico@stockton.edu
609-652-4593
609-412-8069
stockton.edu/media