Ambassador of the Hellenic Republic Visits Stockton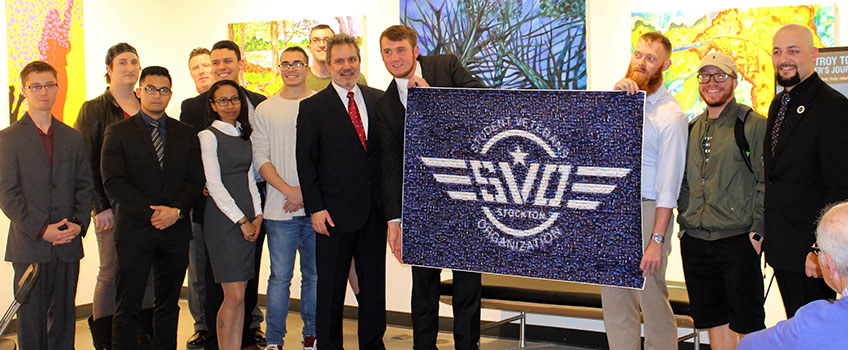 Galloway, NJ - Stockton University welcomed Ambassador of the Hellenic Republic, His Excellency Haris Lalacos, April 16 for a reception hosted by the Dean C. and Zoe S. Pappas Interdisciplinary Center for Hellenic Studies. Ambassador Lalacos also co-presented a seminar with Dr. Tom Papademetriou, Constantine & Georgian Georgiou Endowed Professor of Greek History and director of the Pappas Center.
At the reception, President Harvey Kesselman paid tribute to the late Dean C. Pappas and the Rev. Dr. Demetrios Constantelos for their contributions to the university's Hellenic Studies program.
Student Veteran Ryan Luurtsema also spoke on behalf of his fellow student veterans who recently returned from a 12-day study tour to Greece, "From Troy to Ithaca: A Soldier's Journey Home." He said this groundbreaking program provided him the chance to transition back into civilian life with his classmates, creating lifelong friendships, and the realization that they are not alone.
The students veterans presented Ambassador Lalacos with a poster of the Student Veterans Organization logo made up of hundreds of small pictures from their trip to Greece. Ambassador Lalacos, also a veteran, pledged to hang the poster in his office in Washington, D.C.
A gallery of photos from the event are on flickr.
# # #
Contact:
Stacey Clapp
Director of Digital Engagement
Galloway, N.J. 08205
Stacey.Clapp@stockton.edu
609-626-3645
stockton.edu/media