Activist in Residence Shares Perspectives on Women in Prison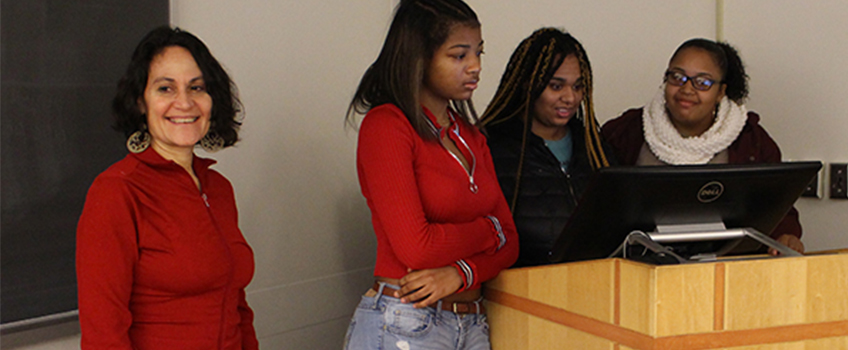 Galloway, N.J. – From the life of women in prisons to learning from films, Leanne Trapedo Sims, the 2018-19 Vera King Farris Fellow and Activist in Residence, is bringing a new perspective to Stockton University this year.
Sims has a PhD in American Studies from the University of Hawai'i, an MA in performance studies from New York University, and an MA in Creative Writing from the University of Wisconsin. She will be drawing from all these disciplines in her work with students.
After working with women in the prison system, Dr. Sims has gained an extensive amount of knowledge and research regarding problems that arise in correctional facilities. She noted that in Hawai'i, indigenous people comprise only 24 percent of the state's population, but make up close to 45 percent of the prison population.
"Women are the fastest growing prison population in the country," said Sims who also has a certificate in Women's Studies from the University of Wisconsin-Madison. "Women's imprisonment has grown 700 percent from what it was in the 1990s."
Along with the immense number of women being incarcerated every year, the re-entry system is also a difficult process. Dr. Sims' work focuses on the challenges women face in prison, as well as when they re-enter society.
Dr. Sims worked as a feminist ethnographer and creative writing instructor at the sole women's prison in Hawai'i, Women's Correctional Community center, which houses 300 women of mixed security levels.
Her work gave her insight on the struggles women face and the language they use to describe themselves.
"I don't use the word 'inmate' to describe a person living in prison. It reduces them to what they have done, and they are so much more than that," said Sims. "Instead, I refer to these women as 'inside people'."
After teaching in the Women's Gender and Sexuality Department at Pace University in New York last year, Sims moved to Philadelphia.
This semester she is teaching a critical thinking class at Stockton. She also brought students to Eastern State Penitentiary where they completed a living history tour, led by former inmates.
"This tour was very much about the power of community to restore and the potential to heal," said Dr. Sims. "Eastern State Penitentiary—one of the foremost historical US prisons—provides contemporary aspects about prison systems today."
She is excited to give more students the same experience when they take the tour again in the spring.
Sims is looking forward to teaching two classes next semester, Intro to American Film and Writing Women's Lives, which will also have a service learning component. She said she will use her degrees in American studies and performance studies to spark student interest.
"Learning through movies and short clips is my favorite way to teach because students today are visual learners," said Sims. "I always bring in little clips and films to keep them interested and informed."
In December she joined Erin O'Hanlon from Stockton's Office of Service Learning, for the screening of Ovarian Psycos, a film about a group of women who bicycle through Lost Angeles to raise awareness and create safer streets for women.
This fall, Sims also joined Professor of Sociology Christina Jackson and her students for a panel discussion focused on ethnographic work. Students were interested to hear about qualitative statistics and interviews that Dr. Sims has used while working as a feminist ethnographer.
Next semester, Dr. Sims is hoping to bring the play, "Mary's Daughter," by hip hop artist, Black Rapp M.A.D.U.S.A to Stockton. The play is an autobiographic journey of Melanie Carter's life as a black woman who was incarcerated in Texas and became Muslim while in prison. The play covers complex issues of race, gender, religion, the foster care system, and mass incarceration.
Sims is also working to bring the Petey Greene Program to Stockton. This program places students in prison facilities as GED tutors since many people who are incarcerated never finished high school.
Sims said students interested in the program are already going through the interview and security process for the spring semester.
Reported by Chelsea Doherty
# # #
Contact:
Diane D'Amico
Director of News and Media Relations
Galloway, N.J. 08205
Diane.D'Amico@stockton.edu
609-652-4593
609-412-8069
stockton.edu/media