Stockton University Atlantic City Ribbon Cutting Just a Beginning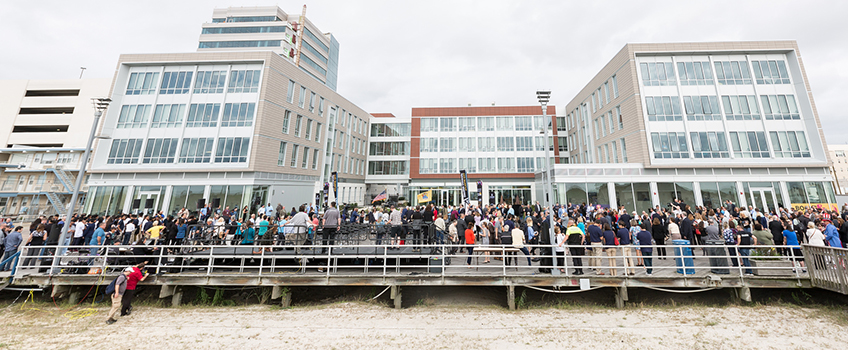 Galloway, N.J. – It took a team to build Stockton University Atlantic City, but the new campus is only the beginning of the university's commitment to students and Atlantic City, speakers said at the ribbon-cutting ceremony in front of the new student Residential Complex on the Boardwalk Thursday.
"The true legacy of Stockton has yet to be realized," said Christopher Paladino, president of the Atlantic City Development Corporation, or AC Devco, which developed the AC Gateway project, which includes the Stockton campus and a new headquarters for South Jersey Industries still under construction. "We are just getting started."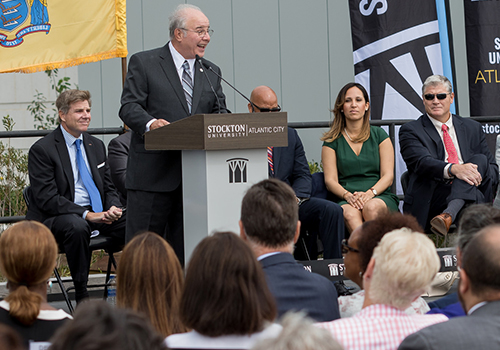 President Harvey Kesselman told the almost 1,000 people in attendance that the campus is not about the buildings, but about the opportunities they will offer students.
"We do everything in support of our principle of Students First," Kesselman said. "This is a transformational moment in Stockton's history."
The common theme among the speakers was the teamwork and bipartisan cooperation it took to bring the $220 million project to fruition.
"We had to make some really difficult choices for this city," N.J. Senate President Stephen Sweeney said. "Now we are seeing the birth of a new economy here."
Jon Hanson, chairman of AC Devco said many partners all played a role in making it a reality, ranging from former governor Chris Christie, to the government agencies, architects, workers and craftsmen who built the buildings on time and on budget.
Paladino agreed, saying he remembers when people said a public/private partnership in Atlantic City would never happen.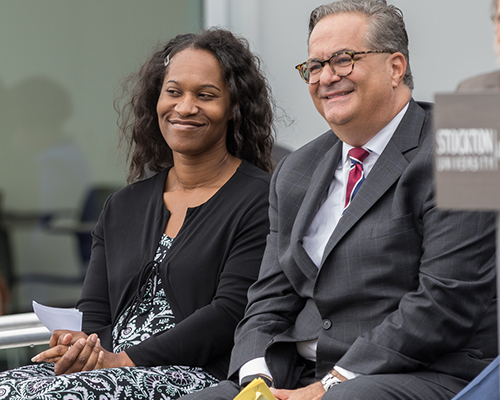 "They were wrong," Paladino said. "This is the realization that anything is possible when people work together toward a common good."
The new $178.2 million campus, located in the Chelsea section of Atlantic City, was funded through sources including the New Jersey Economic Development Authority; Atlantic County Improvement Authority; State of New Jersey's Higher Education Capital Improvement Fund Act; Stockton University; and South Jersey Industries.
Other partners included the Atlantic County Board of Chosen Freeholders, City of Atlantic City, Elkus Manfredi Architects, Joseph Jingoli and Son, New Jersey Educational Facilities Authority, and SOSH Architects.
The campus includes residential housing on the Boardwalk for 533 students, an Academic Center and a parking garage. This fall AtlantiCare will open its first Urgent Care Center in the city, and AtlantiCare Physician Group will relocate its Primary and Occupational Health offices to a ground floor commercial site at the parking garage.
"This is for you," said Assembly Majority Speaker Lou Greenwald, addressing a group of eighth graders from nearby Richmond Avenue School who attended the ceremony. "This is about your inspiration, hope and opportunity." Greenwald also mentioned the contributions of the late Atlantic City Mayor and State Senator Jim Whelan, "who loved this city more than anyone and dreamed this dream."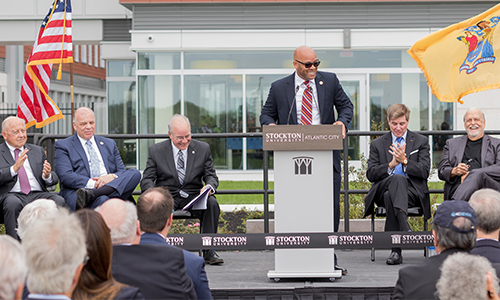 Stockton Faculty Senate President Donnetrice Allison said she and the faculty are excited to become an integral part of Atlantic City.
"We pride ourselves on hands-on learning," she said. "There are opportunities here for students to integrate into the city and learn about themselves and others."
Students in Adam Aguiar's Ecology and Saltwater Fishing Class were out on the beach early Thursday morning before the ribbon cutting for a class activity on casting.
State Senator Chris Brown said the new campus sends a message to all of Atlantic City that there is nothing that can't be accomplished with leadership working together to make sure that Atlantic City moves forward.
A major contributor to the project was the Atlantic County Improvement Authority, which bonded some $127 million toward the project.
"The first time I met with (Atlantic County Executive) Dennis Levinson, we walked around the empty lots and he said he would do all he could to help," Kesselman said. "He delivered."
Levinson joked that at the time he didn't know he was going to be asked for more than $120 million, but he totally believed in the project.
"In the long run this is going to be the greatest project Atlantic City has had going back to the creation of the Boardwalk," Levinson said. "This will be a university town. I have always been proud of Stockton, but we never dreamed of something beyond the pinelands. Now, imagine what we can do. This is just the beginning."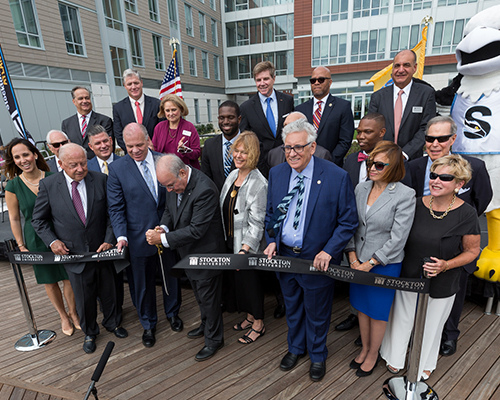 Atlantic City mayor Frank Gilliam, a Stockton alumnus, said when he was walking the campus in the pinelands in the 1990s, never in his wildest dreams did he imagine that one day he would be the mayor cutting the ribbon on a campus in Atlantic City.
"Atlantic City is near and dear to me and Stockton is near and dear to me and the children of Atlantic City are important to me," Gilliam said. "Stockton will help create a better life for them."
Diana Gonzalez, Deputy Secretary of Higher Education, said expanding funding for programs like the state Educational Opportunity Fund, which assists first-generation and economically disadvantaged students, will give more students the chance to attend Stockton.
Stockton was approved for a new Atlantic City EOF program which this year is assisting 50 students.
South Jersey Industries President and CEO Michael Renna said he remembers when people were "writing the obituary for Atlantic City," but that his company jumped at the opportunity to move to the city when they also needed to expand.
He got a laugh when he said that he knows there were concerns about loud music and parties with the new Gateway project, "but we assured President Kesselman that we would be good neighbors."
Madeleine Deininger, chair of the Stockton Board of Trustees and a Stockton alumnus said she has loved watching the progress of the campus "from a dream to an idea to reality."
She recalled attending a summer music program when her mother taught summer classes in the old Atlantic City High School, now the site of the new Academic Center.
"It is a stroke of good, karmic luck that Stockton's new building has landed here," she said. "It was an unwavering belief in Stockton's future that brought life to this project. What a long, positive way we've come in three years. I can't wait to see where we go from here."
Stockton Board Vice-Chair, Leo Schoffer, who will become chairman at the next board meeting, made a proclamation: "There is a new college town on the scene and it's Atlantic City New Jersey. The seashore welcomes the mighty osprey."
Schoffer thanked all the trustees for their tireless efforts during many special and emergency meetings. He said if you now Google "oceanfront universities in America" you won't find Stockton, but he predicted that would change quickly.
Before cutting the ribbon, Kesselman recalled Stockton's first motto when it opened at the old Mayflower Hotel in Atlantic City in 1971.
"The motto then was 'Plant Yourself Where You Can Grow'," said Kesselman, who was one of the 1,000 students in that first class. "We are doing it one more time."
# # #
Contact:
Diane D'Amico
Director of News and Media Relations
Galloway, N.J. 08205
Diane.D'Amico@stockton.edu
609-652-4593
609-412-8069
stockton.edu/media