2017 Change the World Youth Conference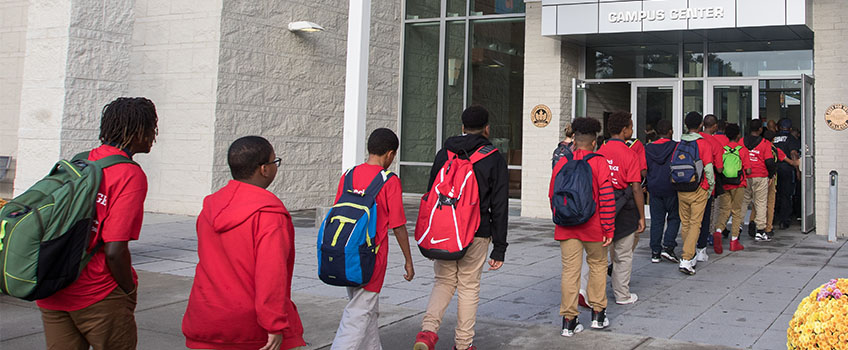 Galloway, N.J. - More than 300 middle school and high school boys from Atlantic City attended Stockton's inaugural Change the World Youth Conference on Oct. 24, designed to create pathways of success and increase the retention of young, minority men.
"The decline in men attending colleges and universities is a real thing. The decline of African American and Latino men attending the university and graduating is a very real thing. You have a community around you that cares about you and supports you and wants you to succeed," Dean of Students Pedro Santana told the audience of young men.
"Academia as a whole has struggled in creating pathways for young men from low socio-economic status and minority populations to become enrolled, retained and graduate with university degrees. This conference sought to ameliorate this nationwide problem by focusing on both middle school and high school age students, working hand-in-hand to support them with the school system and various community organizations and community leaders," he continued.
"We work hard to provide our students with an exceptional environment where they can grow and learn and challenge themselves. Our goal is to impart on our students that they can do anything," Santana said. "I hope that by bringing them to the university they could see themselves as being successful future students, whether they be here at Stockton University, or elsewhere."
Santana shared his own experiences growing up in Washington Heights, New York, a Dominican-American community that borders Harlem. "When I was growing up, it was the height of the crack epidemic in New York City. There were drugs and gang violence. They were a lot of things that were all around me. Through good fortune and good faith and the wonderful support of my family, friends and the community, I was able to choose a path for myself. My mother had a third grade education and she didn't even know how to read. My father graduated high school. They didn't know what a higher education was, but they knew that they wanted that for me."
Santana continued, "What motivated me and pushed me to this present day was that I saw in my community the need for leadership. I saw within my community the need to do more. I saw within my community the need for hope."
The conference featured the debut of the documentary, "From Boys to Men, Rising to Success in Atlantic City," which captures local stories of the success of youth from the Atlantic City area. Student leader Deon Davis, a 2015 graduate of Atlantic City High School and a Communication Studies major at Stockton, who shared his story in the documentary, also participated as a panelist during the conference.
Santana said the conference was developed in partnership with several University leaders representing the best among Stockton's students, faculty, staff and alumni, and had the support Vice President for Student Affairs Thomasa González and President Harvey Kesselman. "I would be remiss if I did not take the time to thank Mr. Kent Green from Media Services and Mr. Darius Edwards from the Office of Residential life and the rest of the production services and media services team for bringing this vision to a reality," Santana said.
View more photos from the conference.
Contact:
Diane D'Amico
Director of News and Media Relations
Galloway, N.J. 08205
Diane.D'Amico@stockton.edu
(609) 652-4593
www.stockton.edu/media