Survivors Share Stories at Yad Vashem Holocaust Summer Workshop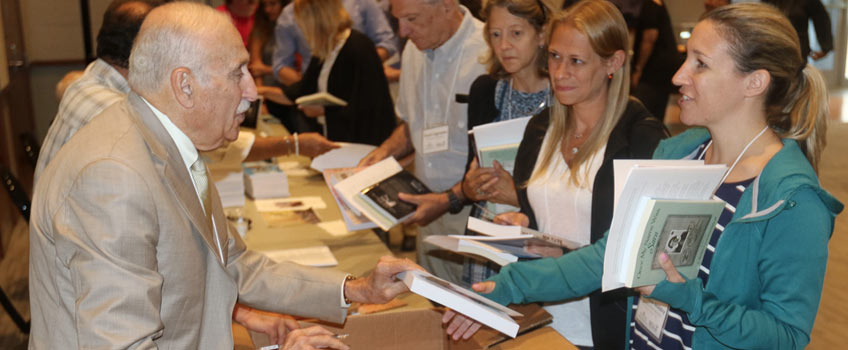 GALLOWAY, N.J. _ Teaching the Holocaust in a way that makes it relevant to students today requires a broad understanding of the topic.
Representatives of the Yad Vashem International School for Holocaust Studies in Jerusalem brought their extensive knowledge and resources to Stockton University for the first Wally and Lutz Hammerschlag Summer Workshop attended by some 60 area teachers.
"It is not just about teaching the content," said Shani Lourie, head of the pedagogy section of Yad Vashem. "We work with teachers on how to make it relevant, teach it responsibly, and make something positive out of it."
Robert Rozett, director of the Yad Vashem libraries, said they can bring an international perspective to the subject, as well as a wealth of information, including the testimonies of some 70,000 Holocaust survivors and 170 million pages of documents.
Vineland High School teacher Terri Kuhnreich said she came looking for different viewpoint to share with her students.
"They come in with a different perspective, and not just the American point of view," she said of Yad Vashem.
The two-day workshop also featured survivors who shared their stories and books they have written, including Betty Grebenschikoff, who escaped to China with her family; David Wisnia who was born in Poland, was deported to Auschwitz-Birkenau.
Leo Ullman was just a toddler in Amsterdam, Holland when his family went into hiding in 1943. He was left with a local policeman to raise, while other family members hid in an attic. When they were reunited in 1945 he did not recognize them.
"Suddenly there appeared this gaunt, emaciated couple who said they were my parents," said Ullman, 78. "I didn't know who they were."
He returned to his parents, but the family stayed close to his "war parents" and Ullman remains in contact with their descendants.
Ullman and his wife, Katharine, recently pledged a generous gift for a memorial room honoring the rescuers of Ullman and his family at the Sara and Sam Schoffer Holocaust Resource Center at Stockton. The room will contain photographs, correspondence and other family artifacts documenting the family's experiences.
The gift was made in honor of his "war parents" Hendrik and Jannigje Schimmel, and Piet and Evertje Hoogenboom, a police officer and his wife who risked their lives to provide false identifications for Ullman's family.
At the workshop he displayed a Muslim prayer rug that was given to his father to take into hiding by a rug dealer whom Ullman's father had met while working at a Dutch department store.
After the war the Ullmans came to the United States, settling in Port Washington, N.Y. where Ullman and his wife still live.
Ullman said he made the donation because he supports the work of Stockton's Holocaust Center.
"I love what the Center is doing," he said. He was also involved with the U.S. Holocaust Memorial Museum in Washington, D.C.
On Wednesday a group of students from the Pleasantville Recreation Center Camp came to hear Ullman speak. Lead counselor Tannia Davenport said students had studied the Civil Rights movement and were interested in the Holocaust. They are currently reading Ullman's book, "796 Days: Hiding as a child in occupied Amsterdam during WWII and then coming to America."
"I would never want to live during the Holocaust," said Al-Amin Page, 12.
Workshop sponsors and supporters also include Maddie and Harvey Rovinsky, who sponsor the "Adopt a Classroom" program, and Lennard Hammerschlag, son of survivors Wally and Lutz Hammerschlag, whose endowed fund supports the summer seminar.
Contact:
Diane D'Amico
News and Media Relations Director
Galloway, N.J. 08205
Diane.D'Amico@stockton.edu
(609) 652-4593
stockton.edu/media