Veterans Day Events Include Program, Concert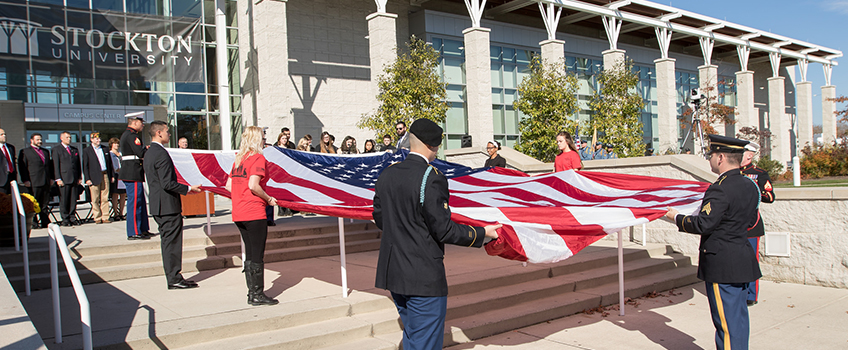 Galloway, NJ – Stockton University will celebrate Veterans Day with three events at different campuses.
Dr. Richard O'Meara, a retired soldier and attorney, will share his experiences of war and peace in Vietnam, Panama and Iraq at 2 p.m. Nov. 8 at Stockton at Manahawkin, 712 E. Bay Ave.
O'Meara is the author of a book of poetry, "Steppin' Out," which chronicles his journey. The event is free and open to the public.
Stockton's Galloway campus Veterans Day program will begin at 11 a.m. Friday in front of the Campus Center with comments by President Harvey Kesselman, Stockton Student Veterans Organization president Frank Attwood, and Joseph A. Belardo, Commander, Order of the Purple Heart.
Stockapella will perform the National Anthem and other patriotic songs.
At 11:45 am the event moves to Independence Plaza where Dean of Students Pedro Santana, student veteran Caleb Taylor and Student Senate President Victoria Dambroski will speak.
At 12:15 the event moves to Veterans Park for the laying of the wreath, and comments by Jason Babin, Director of Stockton's Office of Military and Veteran Services and Stockton Assistant Director of Counseling Services Karen Matsinger.
The day ends with lunch at the Campus Center Event Room.
In the event of rain, the program will be held in the Event Room.
The Bay Atlantic Symphony, in partnership with Stockton, will present a free, family-friendly Veterans Day Concert at 7:30 p.m. Nov. 11 in the Performing Arts Center.
The musical salute will include Aaron Copland's Fanfare for the Common Man, followed by Armed Forces: The Pride of America, Tribute, John Henry, "Fanfare on Amazing Grace, and two rousing John Philip Sousa pieces "Washington Post March" and "Stars and Stripes Forever."
Stockton president Harvey Kesselman will narrate Copland's Lincoln Portrait backed by the orchestra. The concert will close with the 1812 Overture and a surprise encore.
The Veterans Day Concert is free, but advanced reservation tickets are required to attend. Tickets can be reserved by calling the Stockton University PAC at 609-652-9000 or visiting http://www.stocktonpac.org.
Contact:
Diane D'Amico
Director of News and Media Relations
Galloway, N.J. 08205
Diane.D'Amico@Stockton.edu
609-652-4593
stockton.edu/media