Activist in Residence Travis Love Shares the Power of Stories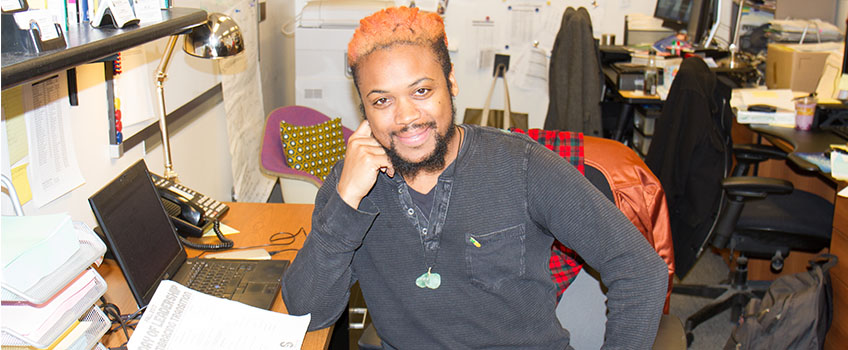 ­Galloway, NJ – Travis Love believes in the power of stories to change lives and bring people together.
The 2017-18 Activist in Residence at Stockton University, Love has always been interested in how stories can break down barriers.
"Community happens in the story-telling," he said.
Love, 36, has organized Story Slams at the Arts Garage in Atlantic City and will host his first Story Slam at Stockton's main campus at 6:30 p.m. Friday, Dec. 8, in the Campus Center meeting room 5. Its theme is "Blind Spot." Participants are asked to share a story of up to five minutes about what that term means to them.
Love has been speaking to classes and students to explain the Story Slam concept.
While he comes from a theater background, Love said students don't have to be actors to participate. It is the ability of theater to tell real-life stories that attracts him. He organized a Story Slam in conjunction with the Day of Leadership that focused on the theme of "Transitions."
"Everyone has an authentic story," he said.
His started as a child when he auditioned for a play, and got a role.
"I was shy," he said. "But theater let me shine in a way I wasn't used to. It felt good. Today it's a way for me to connect on issues and talk about identity."
Love said he appreciates that Stockton recognizes that the arts can be used as a tool to promote social justice.
"I hope to get people to connect with others who are different from themselves," he said. "We are so polarized now, there is no middle ground. This is an opportunity to bridge the gap. I want to foster dialogue."
He said he hopes the Story Slam will promote listening and discussion.
"I want to have discussions rather than debates," he said. "No one really listens in a debate. They just prepare for combat."
A native of Atlantic City, Love attended Montclair State University because he wanted to be near New York City. He appeared in the off-off Broadway production of "7 Degrees of Separation", toured regionally with the George Street Playhouse and nationally with Educational Tours Inc.
His recent credits include artistic director and choreographer of "Nina In Motion" a dance and theatrical piece celebrating the life and legacy of Nina Simone; director of "Before It Hits Home" in honor of World AIDS Day; and co-producer of the "Our Side: The Other Atlantic City" documentary based on the memoir "Growing Up In the Other Atlantic City" by Turiya S. Abdur-raheem.
He is also a Community Engagement Specialist with Rutgers New Jersey Medical School Clinical Research Center in Newark. His work in Atlantic City has been recognized by Princess Inc. and the Martin Luther King Community Commission.
He said over time it has become more important to him to share his knowledge and create projects that inspire people.
"I enjoy the creative process, producing, making the decisions," he said.
He said he hopes people will come to the Story Slam to listen, learn about their fellow students, and maybe a little about themselves as well.
"People are different, even within groups," he said. "I want to give everyone the opportunity to present themselves authentically. This really is life, not just theater."
Students interested in participating in the Story Slam can email 00Nees@gmail.com or can register at the event if there is space.
Contact:
Diane D'Amico
Director of News and Media Relations
Galloway, N.J. 08205
Diane.D'Amico@stockton.edu
609-652-4593
stockton.edu/media