Girls Branch Out at Stockton Tech Trek STEM Camp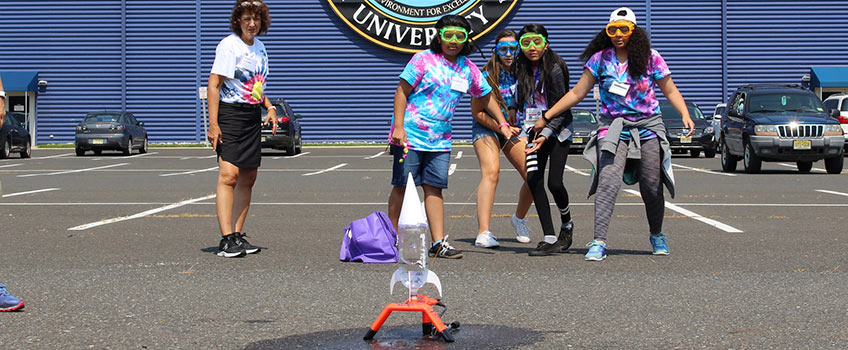 Galloway, N.J. _ The girls were ready. The rockets they built were ready. The bottle rocket launcher was not ready.
Girls in the annual Tech Trek camp at Stockton University huddled with instructors in the Athletic Center parking lot, trying to figure out why their bottle rocket launcher would not work.
"We are having a true scientific moment," said Claudine Keenan, Dean of Stockton University's School of Education and a coordinator of the annual Tech Trek camp for middle school girls, which focuses on STEM, or Science, Technology, Engineering and Math.
This is the third year Stockton has hosted the camp in cooperation with the American Association of University Women, or AAUW. Sixty-two rising eighth grade girls from throughout New Jersey spent a week living on the Stockton campus, learning about STEM fields, and meeting other girls with similar interests.
"It makes you feel like you're not alone," said Megan Gonzalez, 13, of Somerville, who wants to be an aerospace engineer, an interest not many girls in her school share, she said.
She especially enjoyed the field trip to the William J. Hughes FAA Technical Center in Egg Harbor Township, where campers met with female scientists, got a tour, and even tried the flight simulator.
"It was awesome," said an excited Olivia Lucier, 13, of West Berlin of the flight simulator. "Especially trying to land."
Instructors and volunteers at the camp are also women, including Nephthaly Jean-Charles, 21, of Hamilton, a recent Stockton graduate who is now a microbiologist at a chocolate factory.
Stacy Trimble, a middle school science teacher in Hazlet, N.J. and a dorm mom at camp, recommended one of her students, Medha Dabral for Tech Trek.
"I want them to become empowered with the possibilities, and rise to challenges," said Trimble who also takes some of the camp ideas back to her classroom. "It's hands-on learning."
That hands-on learning led to the dismantling of the rocket launcher and the discovery of a defect that got fixed with superglue.
"Having something not work is okay," Trimble said. "You learn a lot from things that don't work. You find out why and make changes. That's science."
Campers chose from a variety of workshops, including water testing and conservation, cyber security, and music coding.
Tech Trek doesn't end when the girls leave Stockton. Meghan Hooper-Jackson , a teacher in Hamilton Township, Atlantic County, worked with campers to build rain barrels they take home for a community service project funded by a grant from American Water.
Other camp sponsors included Symantec and Arconic. The camp also accepts donations through an online elevate account: https://elevate.stockton.edu/project/6113/updates/1
For more information about Stockton University, visit Stockton.edu.
Contact:
Diane D'Amico
News and Media Relations Director
Galloway, N.J. 08205
Diane.D'Amico@stockton.edu
(609) 652-4593
stockton.edu/media
# # #