Stockton Farm to Take Produce on the Road to Galloway Farmer's Market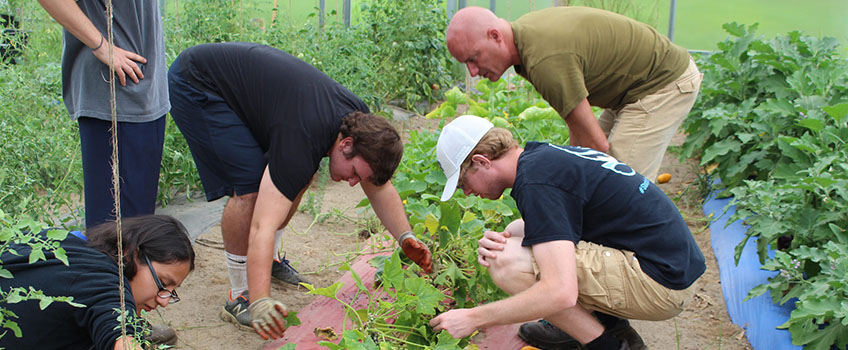 Galloway, N.J. - Sean McBride, 19, of North Wildwood, is learning a lot about garlic this summer.
The Stockton University biology major is conducting a research study on which of some 20 types of garlic grown on the University farm had the best yield.
"They've all been harvested and we're weighing them now," said McBride, who came upon the project while meeting with his advisor, Professor Ron Hutchison.
"Behind him were bins of garlic," McBride said.
The farm, which began as a pilot sustainability project in 2012, is also a learning lab. All produce is certified naturally grown, and the farm operates with its own water tanks and a solar-powered drip irrigation system.
"Electricity and water are our biggest challenges," said Caitlin Clarke, sustainability coordinator. "But we met the challenge."
Now more than an acre in size, the farm grows traditional vegetables like tomatoes, okra, peppers, melons, zucchini and eggplant, but also experiments with different varieties and crops such as purple peppers and ground cherries, a tiny, tangy, fruit covered in a paper husk.
A new mobile greenhouse allows workers to start crops earlier and keep them going through the fall.
One goal of the farm to share what they learn with the community.
Starting Sunday, Aug. 13, the farm will participate in the weekly Go Green Galloway Farmer's Market from 10 a.m. to 1 p.m. at the township municipal complex, 300 E. Jimmie Leeds Road. Erika Perez, Katie Davisson and Tahesia Reid are coordinating the effort to harvest and sell the crops.
Perez, , 19, of Galloway Township, an environmental science major, also worked with science teacher Debra Sommers at the Galloway Township Middle School to install a butterfly garden in Mr. B's Backyard Classroom at the school.
Hutchison has incorporated the farm into Food and Agriculture class projects, including an annual campus composting challenge. The Sustainability Farm Practicum is a summer project for about a half-dozen students who work at the farm.
Student Dylan Bell, 20, of Medford, a sustainability major, also manages the farm's beehive.
"We only have one right now, but it's huge and full of honey," he said.
Not every crop works. An effort to grow lentils failed when weeds took over. They are currently experimenting with different colors of plastic crop cover to see if the reflected light affects growth.
"I'm not sure I believe that, but we're trying it," Hutchison said.
At a nearby table, Clarke and the students looked over harvested tomatoes. Naturally grown produce can fall victim to bugs and disease, and the tomatoes aren't always the most perfect looking, but Clarke is pleased with the crop so far.
She spots a bug she thinks might be a so-called assassin bug, and pulls out her phone to take a picture. The bug is considered beneficial in gardens because it eats other bugs that could damage crops, so Clarke is delighted by its presence.
"Oh, I'm so happy right now," she said. "This means we are doing things right."
Contact:
Diane D'Amico
News and Media Relations Director
Galloway, N.J. 08205
Diane.D'Amico@stockton.edu
(609) 652-4593
stockton.edu/media