Stockton, Atlantic Cape Announce New Transfer Partnership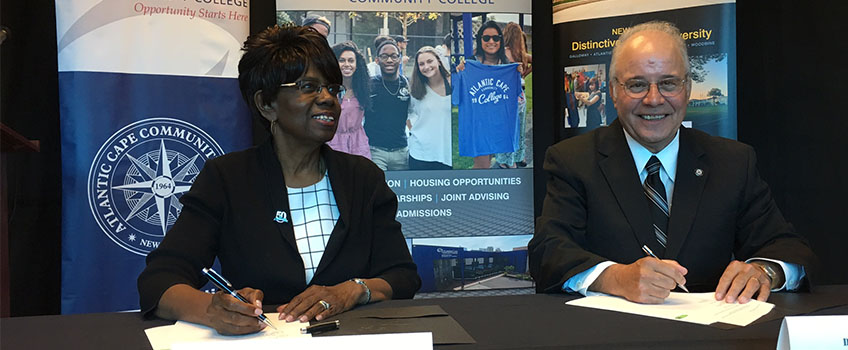 Atlantic City, N.J. - The presidents of Stockton University and Atlantic Cape Community College today announced a new partnership that will help students make a smooth transition from the two-year-college to a four-year bachelor's degree program.
The "Stockton University at Atlantic Cape" program enhances existing agreements, and will provide students with more opportunities to earn both associate and bachelor degrees.
"This partnership will strengthen our Atlantic City presence with Stockton University and will benefit students by providing a cost-effective means for them to get their degree and prepare for the workforce," Atlantic Cape president Barbara Gaba said in a ceremony at Atlantic Cape's Charles D. Worthington Atlantic City Campus.
Stockton welcomed 988 transfer students this fall, and 208 of them, more than 20 percent, came from Atlantic Cape Community College.
"We want to provide every student who wants it, the opportunity to earn a four-year college degree," Stockton president Harvey Kesselman said. "This agreement will make it easier and more affordable for local students to continue their education, especially as we open our new Atlantic City campus in the fall of 2018."
The terms of the partnership include:
Students in the program who earn their associate degree at Atlantic Cape can enter Stockton as fully-matriculated juniors. Any Stockton application fees will be waived for participating students.
Eligible students who apply to, but are not admitted to Stockton as freshmen, can instead attend Atlantic Cape but receive counseling and advising from both Stockton and Atlantic Cape. All eligible students will receive a letter conditionally accepting them to Stockton University at Atlantic Cape. They will be officially admitted to Stockton upon receiving their associate degree.
Credits earned at Stockton can also be applied to an associate degree at Atlantic Cape in a "reverse transfer" agreement.
Stockton will provide five annual scholarships of $2,000 to top performing Atlantic Cape graduates who enroll at Stockton through this agreement.
Students enrolled in the "Stockton University at Atlantic Cape" program will be eligible to apply for Stockton housing.
Atlantic Cape will prominently display a "Stockton University at Atlantic Cape" banner at its Atlantic City Campus to signify the importance of the relationship.
More information about the partnership is on the Atlantic Cape Community College web site at: atlantic.edu/suac
Contact: Diane D'Amico
Director of News and Media Relations
Diane.D'Amico@stockton.edu
(609) 652-4593
Stockton.edu/media