More than 80 area students compete in StockHack II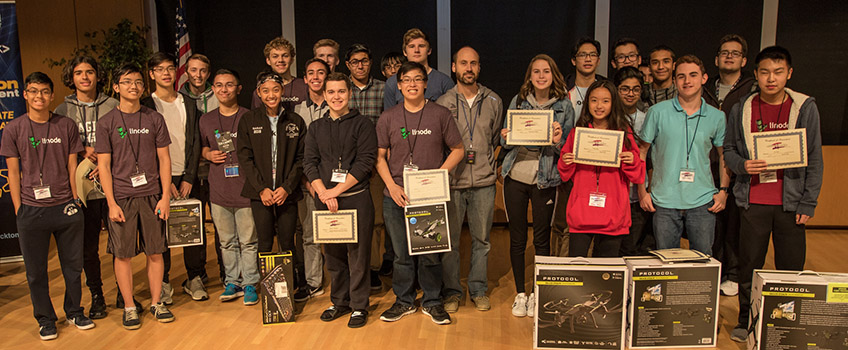 Galloway, NJ - Teams from Stockton University, Egg Harbor Township High School, and West Deptford High School were the winners at the second 24-hour StockHack computer science innovation contest sponsored by Stockton on Saturday and Sunday.
Innovation Grand Prize awards went to the Stockton team of Sheikh Mahmud, Huy Vu, and Christian Mauriello for Iris Text Analysis Software; and the EHT team of Leo Shao, Vicky Zheng, and Alex Cohen for Quizlet with Friends Innovative Messaging App.
Innovation Prize awards went to Nicholas Michelette, Chris Kline and Josh Sennett from EHT for Gaming Hardware Comparison; and Jarod Willie, Sam Liang and Raymond Xue from EHT for Breach Currency App.
Leah Clements from West Deptford High School took the Junior Innovator award for Anxiety and Relaxation App.
An Honorable Mention went to Augmented Reality by the EHT team of Jaysson Solano, Guy Pastrana, and Sammi Scalese.
This is the second year Stockton has organized the 24-hour computer science innovation competition, which challenges students to create solutions to real-world problems.
This year 84 high school and college students participated in the competition, which began at noon Saturday and continued through the night before judging Sunday morning.
The event is coordinated by Stockton Chief Information Officer Robert Heinrich and Assistant Director of Information System and Security Administrator Demetrios Roubos.
"We generally learn through fixing a problem as we attempt different solutions," Heinrich told the competitors as the competition kicked off. "Don't be afraid to fail."
U.S. Rep Frank LoBiondo and Stockton's first lady Lynne Kesselman also attended the event and welcomed the participants.
"The critical nature of keeping the United States safe hinges upon your generation, your ability to solve problems and your ability to bring technology to life for what we need in a variety of areas," said LoBiondo, chair of the U.S. House of Representatives Aviation subcommittee and CIA committee.
"I don't think there's been a time since the Wright brothers that we've been at the edge of a new dawn with aviation," he said, citing unmanned aerial vehicles and drones. "The applications that are taking place are game changers and life changers, literally saving lives. In the aviation industry, we here in South Jersey, in large measure thanks to Stockton University, are really poised to be the Silicon Valley for aviation."
Kesselman, a former president of the Computer Science Teachers Association Southern New Jersey chapter returned Sunday to congratulate winners and hand out awards and door prizes that included drones.
Many of the participating students plan careers in computer science fields.
"It's our future," JT Kurtz, an Egg Harbor Township High School graduate and Rowan University student, said of technology. "I want to be a part of that innovation and make a positive impact."
Kurtz won best interface design last year with his teammates Sarah Phung and Akash Thaker, currently seniors at Egg Harbor Township High School, for a travel app. They came back to compete again.
"We loved the experience and opportunity, and Stockton is really close to home," Kurtz explained.
"[Last year] we all pulled all-nighters, and that brought us together to form a bond," said Phung.
(Story reported by Susan Allen and Diane D'Amico)
A collection of photos can be viewed on flickr by clicking StockHack photo gallery.
Contact:
Diane D'Amico
Director of News and Media Relations
Galloway, N.J. 08205
Diane.D'Amico@Stockton.edu
609-652-4593
stockton.edu/media