Workshop Puts SpotLIGHT on Small Business Hiring, Marketing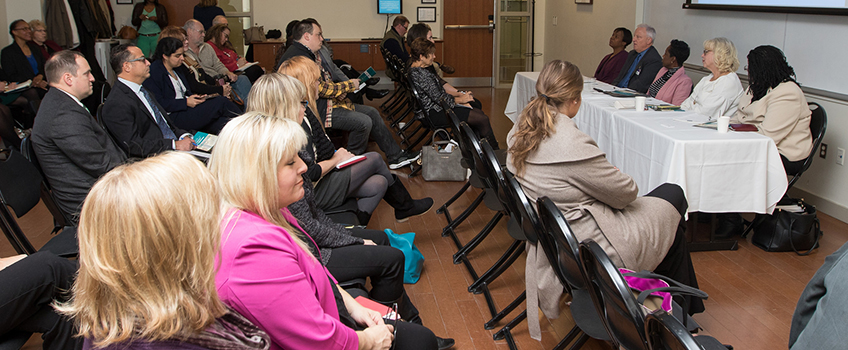 Galloway, NJ - A goat farmer and an ice cream parlor owner may not seem to have a lot in common.
But both need employees and customers to survive, which brought them and more than 30 other small business owners to the first Hospitality and Business SpotLIGHT sponsored by the Lloyd D. Levenson Institute of Gaming, Hospitality & Tourism (LIGHT) at Stockton University on Dec. 11.
The half-day program titled "Managing Your Workforce, Client Relationship and Social Media" featured a panel discussion on recruitment, hiring and workforce communication, plus presentations on reputation management, social media marketing and digital marketing.
Sherry Moore, director of Human Resources at The Claridge in Atlantic City, said listening and truly caring help to create successful communication.
"People respect when you come to them and ask them how they are doing," she said.
Ari Lewis, general manager at 24, a restaurant in Philadelphia, asked about social media and if it should be used as a tool during the hiring process.
Polly Moore, assistant vice president of Human Resources at Tropicana Casino and Resort, said social media offers a new platform for expression, and while an employer may be able to check someone's social media profile, she advised against it when making hiring decisions.
Small business owner Joanne Thomson, of Angels in the Pines Goat Farm, said the baby boomer generation and millennials are different. She said she is flexible with her employees, and in return, her employees are there for her when she needs help.
Carrie Wojdyla , social media manager at Borgata, said different generations use different media, and the market has to be targeted to the desired market. She said live video is growing, but all marketing strategies should work together to reach a broad audience.
Michael Chait, marketing manager for BH Media, said successful marketing has to attract, engage, convert and nurture customers by knowing what they want and how to deliver it. He quoted a saying that "no one buys a drill bit because they want a drill bit. They buy it because they want a hole."
Sheldon Yeager, co-owner of Skipper Dipper ice cream shop on Long Beach Island said the event was a great opportunity to learn from professionals in different areas.
He said while the ice cream shop has been around since 1978, they have to keep their marketing fresh for new customers each season.
"The audience changes every few years and it is a competitive landscape," he said. "You can't take anything for granted."
Rummy Pandit, executive director of LIGHT, said he was pleased with the turnout and the active engagement among the participants.
"We want to get out the message that we are here to serve the community and small businesses," he said. He said he would like to do three or four similar workshops for small businesses each year, focusing on hospitality and tourism industry issues.
Other speakers at the workshop were Alan Beatty, vice president of human resources at Shore Medical Center, La Shonine Gandy-Smith, CEO Millennial Capital Investment, LLC, Diane Holtzman, associate professor of business studies at Stockton, and Alexis Irving-Waiters, human resources executive with Campbell Soup Company.
The event was sponsored in partnership with the Small Business Development Center at Stockton. The breakfast was sponsored by the N.J. Retail Hospitality & Tourism Talent Network.
Contact:
Diane D'Amico
Director of News and Media Relations
Galloway, N.J. 08205
Diane.D'Amico@stockton.edu
609-652-4593
stockton.edu/media