Stockton Presents Exhibition of Art Work by Graduating Seniors Now Through April 28
For Immediate Release
Contact: Denise McGarvey
Exhibition Coordinator
Galloway, N.J. 08205
Denise.McGarvey@stockton.edu
(609) 652-4566
stockton.edu/media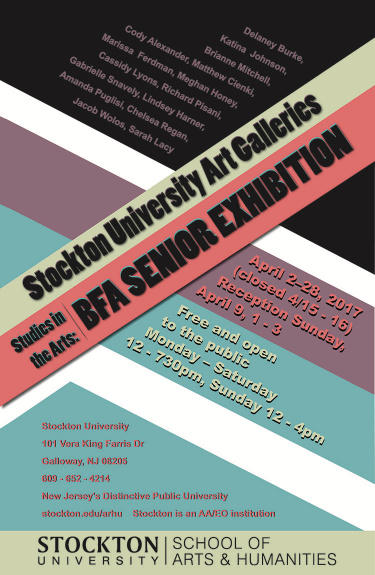 Galloway, N.J. - Stockton's visual arts faculty is pleased to announce an exhibition of their spring Bachelor of Fine Arts (BFA) graduates from the Visual Arts Program within the School of Arts and Humanities. The exhibition will be on display from now through April 28 but closed April 15-16. The opening reception to meet the artists will be held from 1-3 p.m. on Sunday, April 9 in the Stockton University Art Galleries on the main Galloway campus.
There is no admission fee and this event is open to the public. The art galleries are located in the L-Wing, adjacent to the Performing Arts Center, with parking in lots 6-7. Directions/campus map/event updates available at: www.stockton.edu/artgallery

Fifteen exhibiting artists from New Jersey will be featured concentrating in visual communications, photography, sculpture, painting, and printmaking. The visual communications majors are: Cody Alexander of Sicklerville, Matthew Cienki of Hammonton, Marissa Ferdman of Absecon, Meghan Honey of Little Egg Harbor, Cassidy Lyons of Manahawkin, Richard Pisani of Marlton, and Gabrielle of Galloway. The painters are Delaney Burke of Toms River, Katina Johnson of Cape May Court House, and Brianne Mitchell of Lanoka Harbor. Sculpture students are Chelsea Regan of Bayville and Jacob Wolos of Galloway. Photographers are Lindsey Harner of Cape May and Amanda Puglisi of Shamong. The solo printmaker is Sarah Lacy of Linwood.
Listings:
Stockton University Art Gallery
BFA Senior Exhibition
April 2-28 (closed Easter weekend 4/15-16)
Reception: Sunday, April 9, 1-3 p.m.
Free and open to the public
Hours: Mon-Sat. 12-7:30 p.m. & Sun. 12-4 p.m.
609-652-4214