Student Project Links Woman, 89, with Extended Family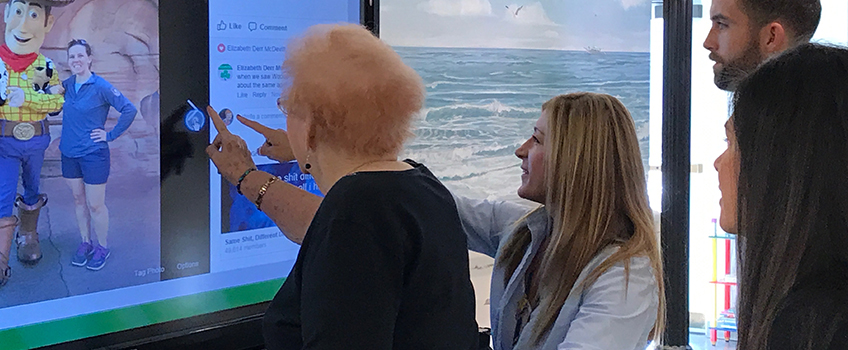 Galloway, NJ _ When Mildred Evans moved into Seashore Gardens Living Center, her daughter, Lois Worthington, was concerned that the 89-year-old might become isolated from her family.
But thanks to two Stockton students and the staff at Seashore Gardens, Evans is now linked to her family through Facebook, where she can see family photos and keep track of her grandchildren and great-grandchildren.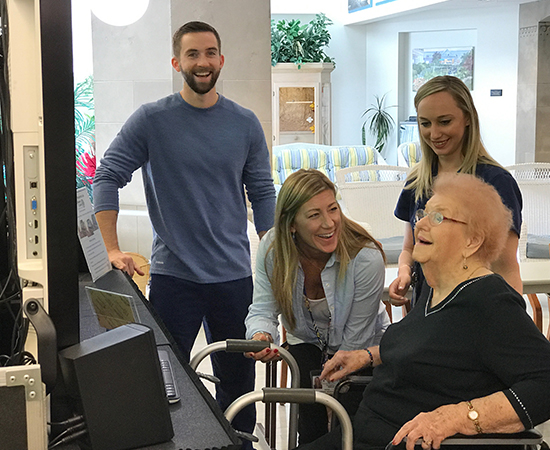 "She has learned a new skill at 89," Worthington said. "This gives her a connection to the outside world."
Nicole Goodson, director of rehabilitation and a speech language pathologist at Seashore Gardens said Evans is a high-level patient who was missing her family. Stockton students Melissa Plasse and Patrick Griggs, were completing a clinical externship at Seashore Gardens for their Masters in Communication Disorders degree program. The center has a technology program called "It's Never 2 Late" which is designed to help older adults more effectively use technology.
Plasse and Griggs took on the project of connecting Evans to her family during their speech therapy sessions. They set up a Facebook account for her and created an instruction book to show her how to use it. The big-screen monitor is easy for her to see, and the touch-screen system and specialized keyboard are adaptable for her use.
"Melissa and Patrick were excited about the proposal and open-minded," Goodson said. "They just took the idea and ran with it. They taught (Evans) how to log in, and she is learning new skills that make her more independent." Goodson said.
Griggs said the adaptive equipment made their role easier.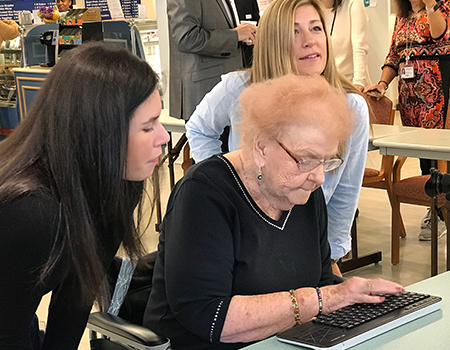 "The keyboard can be adjusted for someone in a wheelchair," he said. "And with the touch screen, she doesn't need to use a mouse, which is more difficult. We walked her through it and she got pretty good at remembering the steps."
The two also developed a personalized user guide for Evans.
"She likes to go on Facebook," Griggs said. "You can see the enjoyment on her face when she's using it."
"She has so many grandchildren and great-grandchildren, and people really don't print out photos anymore," Plasse said. "She was missing out. This really lifted her spirits."
Plasse said they also learned a lot about working with the geriatric population.
"Something that is so easy for us can be hard for someone else," she said. "We learned how to explain and break things down into steps. It really taught me patience, and also how technology can make life easier."
Worthington said she is very impressed with the students' work and their interest in her mother. She said the project has made her feel better about having her mother in an assisted living facility.
"It was hard to have to move her out of her home," she said. "But I have never met two people who are so nice and kind as Patrick and Melissa. Now I can see that my mother looks well there, is happy and has good care."
Worthington said her entire extended family loves being able to share photos and now her mother can participate.
"That's why I have Facebook," she said. "Now I can call her and say 'Did you see the photos of the baby?' "
Contact:
Diane D'Amico
Director of News and Media Relations
Galloway, N.J. 08205
Diane.D'Amico@stockton.edu
609-652-4593
stockton.edu/media