Scholarship Recipients Thank Donors at Annual Dinner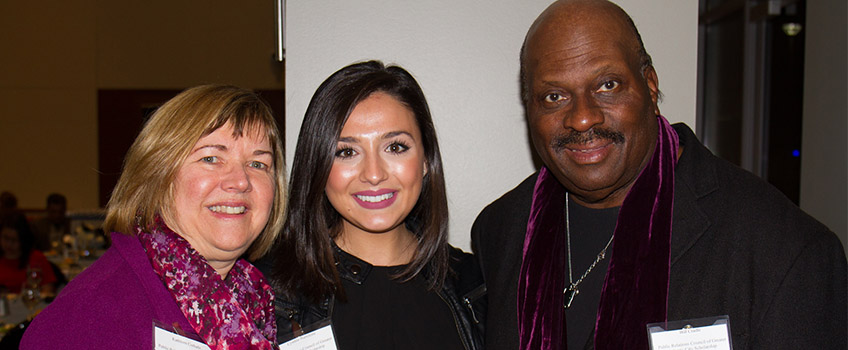 Galloway, NJ - What does a scholarship mean to a student at Stockton?
Students shared the impact of their scholarships at the annual Scholarship Dinner, honoring both the recipients and donors who make the awards possible.
"This is why we are not shy about asking for your continued support," President Harvey Kesselman said. "We know what your investment can do."
Phillip T. Ellmore, Stockton's Chief Development Officer and Executive Director of the Stockton Foundation, said this year they received 855 applications. More than $700,000 has been awarded to almost 500 students so far.
"We hope you are reminded of why we do what we do," Ellmore said to the 370 students and donors who attended the event in the Campus Center Event Room.
"I pay for school on my own, so every little bit helps," said Cynthia Bartolone, who sat with Kathleen Corbalis and President William Cradle from the Public Relations Council of Greater Atlantic City, which provided her $1,000 scholarship.
Seven students from different departments shared their stories with the audience. Here are excerpts of what they said.
Casey Van Newenhizen: Joshua Jess Cabot Dance Scholarship and the Koopman van de Kar Award.
"I am a Dance Pre-Movement Science major with a concentration in Physical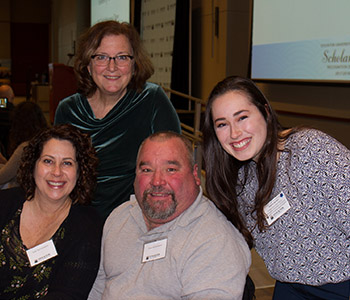 Therapy and a minor n Holocaust and Genocide Studies. As you can tell, I have a range of interests. (Originally) I was only looking at schools that had good physical therapy departments. But when I found out Stockton had the amazing option to major in dance and physical therapy I was sold. The Joshua Jess Cabot Dance Scholarship has been very helpful to me in assuring I can really focus on my dance education here to be fully prepared for the professional dance world.
I have always had an interest in learning more about the Holocaust since my fifth grade teacher introduced it to us. Thanks to the Koopman van der Kar Award, started to honor the memory of Jack Koopman's family members that perished in the Holocaust, I am educate be educated on these things. And as well all know, fear and hatred spring from ignorance."
Sheikh Mahmud: Council of Black Faculty and Staff Scholarship, Gerald Clemens Endowed Scholarship
"I was the so-called computer science kid who would spend hours after school or during the holidays learning various programming languages, expanding knowledge on cybersecurity and networking, and operating on database programs. … Thanks you (my instructor and dear friend Dr. Aakash Taneja) I was inspired to work with him and my dear classmate Vincent Bryant. Our research involved understanding the interaction between humans and chatbots, as well as why humans use chatbots. …. I have been offered internship and job positions in software development. I have high hoped I will land a promising position soon."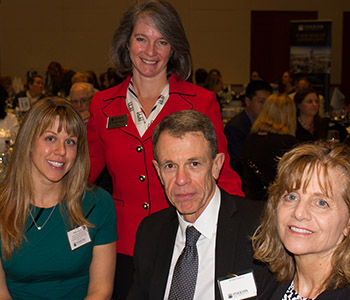 Tia Tilton: Caesars Entertainment Endowed Scholarship, Stockton Graduate Studies Book Award
"I am by no means a traditional teacher. I did not grow up wanting to be a teacher. After I graduated from Stockton with a degree in Psychology my father suggested that I look deeper into teaching because of my affinity for children.
After teaching for some time, I longed to do more. I wanted to work with populations that seem to be often overlooked and/or forgotten. I made the decision to continue my educational journey and pursue a Master's Degree in Special Education. Stockton University has granted me the ability to effect change in my students. If I can effect change within them, then they can effect change within others. Stockton has helped me shape the future one mind at a time."
Michael Slaza: Adele and Joseph Dancyger Scholarship, Koopman van de Kar Award, Dr. Lawrence and Elaine Zemel Holocaust Studies Award: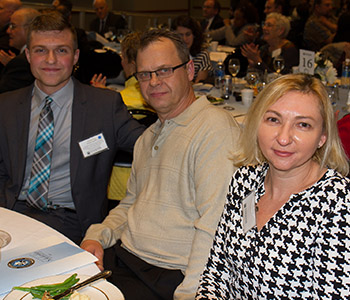 "Being part of a first-generation American family that emigrated from Poland has entailed the majority of my life's accomplishments and stresses. … Unfortunately we had lived in the discomfort of economic stress. I began to finally understand the sacrifices my family has made when college acceptance letters were mailed back to me. I got into every college, but could not afford to attend any of the colleges regardless of the merit scholarships I received. I was in tears, feeling responsible for accumulating a new source of debt for my parents, but my father always told me that money would find a way.
When Stockton offered me the once-in-a-lifetime opportunity to graduate without debt I accepted without hesitation. Receiving the Dean's Freshman Scholarship and an invitation in the EOF program finally gave me the comfort I needed to pursue a degree, but still under pressure. My brother would be attending college in two years, and I felt the pressure to graduate two years early, taking up a biology degree to pursue a joint Physical Therapy PhD program.
Without the support from Stockton (and the scholarships) I would not be standing here in front of you today. I would not have been able to pay for a medical internship that spanned a month in Sri Lanka. Without the leadership opportunities gained on campus I would not have been able to learn how to manage people in a medical setting and without my minor in Holocaust and Genocide Studies I would not have been able to have a strong foundation in morals, values and ethics that were abused by doctors and nurses during the Holocaust.
The memories of your family members that were murdered during the Holocaust will resonate within my memory, and hopefully the memory of giving back to a student that has been in need for support for as long as he remembers will resonate within you."
Sara Vetrician: Stockton University Foundation Award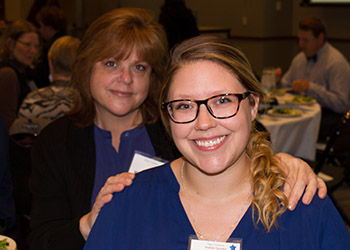 "I am a second-year graduate student in the Master of Science in Communication Disorders Program. The support my program faculty gave me allowed me the opportunity to complete two wonderful clinical internships … at Seashore Gardens Living Center and at Children's Specialized Hospital. The scholarship that was awarded to me allows me to focus my efforts on my studies and clinical work rather than worrying about money. The financial support I have been given allows me to do what I am passionate about every day, by helping medically complex children develop their language and feeding skills."
Sydne Hunter: Parent and Family Association Scholarship, NAMS Scholarship
"Last year I was the recipient of the Gross Family Environmental Scholarship. Because if that award, I was able to spend two weeks on a faculty-led tour in Ecuador, where I learned about international sustainable development while zip-lining in a cloud forest, petting llamas at 13,000 feet, and hiking through the breathtaking beauty of the Andes Mountains. I learned more in those two weeks than I ever could have in two semesters at home.
Scholarships also allowed me to take on a minor in mathematics, even if it meant not graduating in exactly four years. I have been able to take a full class load every semester, and to do independent studies and projects with Stockton's amazing professors because I have not had to hold a job during the school year. I have my incredibly hardworking parents and my scholarship donors to thank for that. You have allowed me to take advantage of the many opportunities that Stockton has to offer."
Askhia Khawaja: Stockton Federation of Teachers Scholarship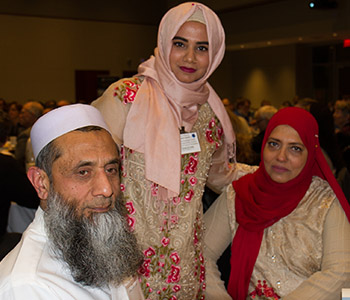 "My journey at Stockton began in fall 2014, the same year my parents decided to make the sacrifice of leaving their community and family in Pakistan. As a daughter of immigrant parents I was advised to keep my head down, work hard, and complete my education, which is what I did my first semester. But then, I met Dr. Merydawilda Colon, and before you know it I was in the interview process of becoming a student fellow at the Stockton Center for Community Engagement. This was my first life changing moment! …. It is from there that I discovered how sustainable change comes through consistency. It is from here that I learned the worth of a powerful and active community and how to contribute to the creation of such a community.
Donors, it is due to your generous donations that I got the opportunity and privilege not to burden myself with a second part-time job. Instead, I was fortunate enough to spend that time learning the true meaning of leadership and incorporating all the lesson mentioned in my life. Because of your donations I have the privilege to attend Stockton and take full advantage of all the opportunities that it affords me."
Contact:
Diane D'Amico
Director of News and Media Relations
Galloway, N.J. 08205
Diane.D'Amico@Stockton.edu
609-652-4593
stockton.edu/media