Summer Workshop Shows Off The Pinelands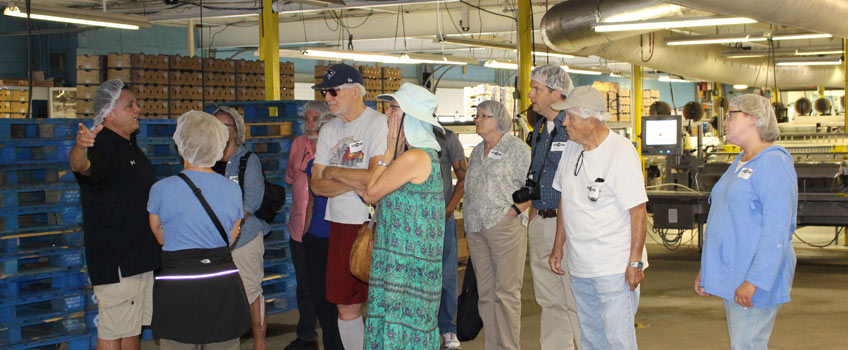 Hammonton, N.J. - Willingboro teachers Tracey Holland of Southampton and Alice Holmes of Tabernacle wrapped up the seminar on Agriculture in the Pine Barrens at Stockton University's Kramer Hall and couldn't wait to go to Batsto for a workshop on Dragonflies of the Pinelands.
"We can't do this in March, because we're teaching," said Holland. "But this is great professional development."
The New Jersey Pinelands Commission and Stockton University hosted the first Pinelands Summer Short Course on July 27, attracting almost 80 people who chose from a multitude of workshops at Kramer Hall and field trips that included a canoe trip, Pinelands hike, and tour of Atlantic Blueberry Company.
In Keely DiTizio's Agriculture in the Pines class participants tested soil to learn how the sandy soil of the Pinelands affects crops.
"If you look at how sand drains, it won't retain nutrients," DiTizio said. "It makes you appreciate what can grow there."
Paul Galletta, an owner of Atlantic Blueberry Company, said the soil is one of the reasons New Jersey blueberries are so good.
"Other states don't have the same soil," he said. "But they can doctor it up."
Participants got to tour the plant and processing areas, and take a trip out to the fields.
Other workshops discussed the health benefits of blueberries, history of New Jersey wine, the Battle of Chestnut Neck and butterflies and moths.
Pinelands Commission spokesman Paul Leakan said the summer workshop was added at public request by people who cannot attend the Pinelands Short Course in March.
Holland and Holmes said they would encourage teachers to attend to find local lessons for their students.
"Students love learning about the area they live in," Holland said.
Contact:
Diane D'Amico
News and Media Relations Director
Galloway, N.J. 08205
(609) 652-4593
For more information about Stockton University, visit Stockton.edu.
# # #