Pinelands Short Course Prepares Nature Enthusiasts to Become Protectors of NJ's Environment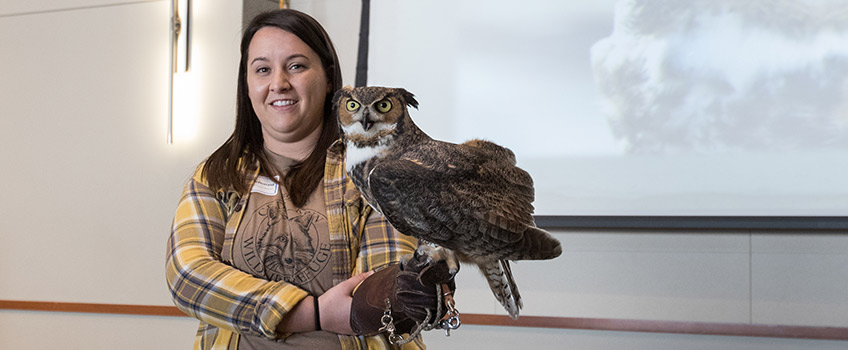 For Immediate Release; Photos on Flickr
Contact: Susan Allen
News and Media Relations
Galloway, N.J. 08205
Susan.Allen@stockton.edu
(609) 652-4790
stockton.edu/media
Galloway, N.J. – More than 560 Pinelands Short Course attendees spent the day learning about the unique wildlife, ecology, people, folklore and history of New Jersey's 1.1 million-acre Pinelands National Reserve at nearly 40 educational courses taught by experts.
"Our biggest goal is to help raise awareness of the Pinelands and provide people opportunities to learn about this area. The more people know, the more they want to protect and support the Pinelands," said Paul Leakan, communications officer for the New Jersey Pinelands Commission.
In one classroom, Matt McCort gently held a cream-colored northern pine snake covered in dark blotches, a pattern that blends well on a sandy surface or the forest floor, as participants admired the specimen. The snake softly hissed, but remained calm as he curled around McCort's safe hands that are experienced in handling wildlife.
"They're all bark, no bite," assured McCort, a herpetologist and wildlife ecologist with Herpetological Associates, where he has worked since graduating with an Environmental Science degree from Stockton in 2000.
A few feet away, enclosed in a terrarium, a very still timber rattlesnake watched from a coiled position. McCort discussed the life history and conservation of these species and other threatened and endangered snakes in New Jersey's Pinelands.
Down the hall, the question "why should I care about insects" was projected onto a large screen, as Dan Duran, an assistant teaching professor at Drexel University and a 1998 Stockton Environmental Studies graduate, described the many ecological services these winged creatures provide.
"We literally couldn't survive without them," he answered, adding that "as the number of species in an ecosystem increases, the more resilient the ecosystem should be."
Insects decompose waste, help to recycle nutrients in the soil, purify water and air, control erosion and pollinate plants.
The estimated value of insect pollinators to agriculture in the U.S. is about $40 billion, Duran explained, adding that honeybees aren't the only pollinators and aren't always the most efficient.
"As few as 250 native orchard mason bees can pollinate an acre of apples. It would take about 40,000 honeybees to do the same," he said.
Beetles aren't typically recognized as great pollinators, but they can pollinate an estimated 211,935 plant species, while bees can pollinate about 40,000 plant species.
Duran confronted a common misconception that portrays insects as pests that should be eliminated. "There are slightly over a million species of insects that have been described as of 2016 with recent estimates suggesting that there are actually 2.6-7.8 million insect species in the world. Less than 1,000 species are serious pests," he explained.
Some insects act as natural pest control. "The dragonflies in one large pond will likely kill more mosquitoes than all of the bug zappers in the entire state of New Jersey over an entire year," he said.
Duran's interest in insects began early in his life. "I was born looking for critters," he joked.
His irrepressible curiosity and tendency to look closely at nature's details led him to describe a number of new species of tiger beetles, which are his research interest, and to 15 countries and four continents for field work.
"I love Stockton. It's the reason I do what I do. There are seven species of tiger beetles that can be found on campus. Jamie Cromartie [an associate professor of Entomology] and the campus are what showed me I could do this as a career," he explained.
Stockton Environmental Science seniors Kevin Briede, of Milford, and Megan DiMarcantonio, of Frenchtown, attended the Short Course to learn more about the species that inhabit the campus. They are developing a comprehensive trail project at Stockton to help promote the opportunities to observe wildlife on campus and to educate the community about the diversity of species.
Briede said he attended the Short Course because "it's my major" and a great opportunity to learn outside the classroom. He was particularly interested in learning about frog and toad identification by the sound of their croaks.
DiMarcantonio said, "I'm living here and want to be aware of my surroundings."
Mary MacDonald and Kristen Volpi, of Woodford Cedar Run Wildlife Refuge, brought their feathered friends which act as animal ambassadors to explain their work to rehabilitate sick, injured and orphaned wildlife. The animals that cannot be released back into the wild help them with educational demonstrations.
Raptors are birds of prey that grab their food with talons, use sharp, hooked beaks for eating and have keen, binocular vision for depth perception.
Raptors are further broken down into groups. Falcons are the fast flyers, owls are the night hunters and eagles, hawks and vultures are the large, soaring birds, explained Volpi.
MacDonald, who is a Stockton graduate and a teacher at Burlington County Institute of Technology, put on a thick leather glove and brought out a rehabilitated red-tailed hawk that was hit by a driver who brought the injured bird to them for help. Due to vision loss in one eye, the hawk lives at the refuge. A great horned owl with a wing injury that prevents flight also made an appearance along with a few reptiles.
In a new course, "Lenape and the Jersey Shore," Diana Burich, a K-12 program coordinator for the New Jersey Sea Grant Consortium, discussed the native Americans who lived in the Pinelands prior to the European settlers. She explained how they utilized the coastal environment and how they survived in this region while showing a series of artifacts.
Shannon Purcell, of Tuckerton, watched her son Connor produce smoke as he went through the steps to make a fire, the same way the native Americans would have.
In the Campus Center Grand Hall, colorful posters were on display depicting Pinelands wildlife designed by high school students for the first-ever poster competition. Max Ainsworth, a 10th-grader from Northern Burlington County Regional High School, won with his design of a state threatened species. After researching local birds and reptiles, he decided to create a design using the red-headed woodpecker in its habitat.
Outside, George Zimmermann, professor of Environmental Studies, led participants on a tour through areas of the campus forest that have received thinning and prescribed burn treatments as part of the university's comprehensive forest management plan. Species such as the red-headed woodpecker on Ainsworth's winning poster are attracted to young, successional forests that result from forest management.
For more information about Stockton University, visit Stockton.edu.