Recycling Project Takes Clam and Oyster Shells from Restaurants to the Bay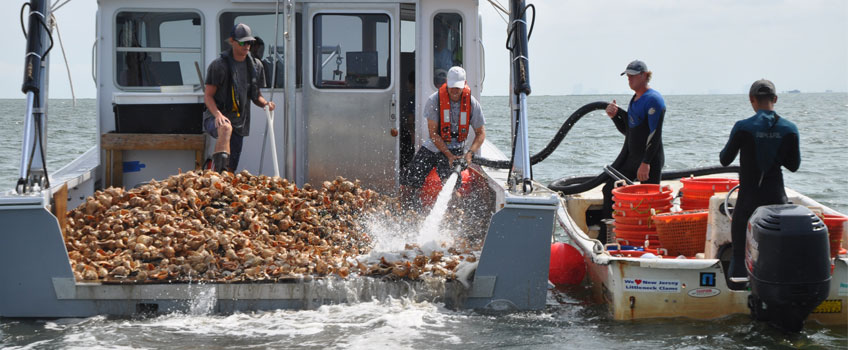 Galloway, N.J. _ When customers at several Long Beach Island restaurants order clams or oysters this summer they are also helping a Stockton University project to restore oysters to the Southern Barnegat watershed.
The used clam and oyster shells are being collected by Long Beach Township employee Joe Mangino three times a week and delivered to Parsons Mariculture, where they will cure and be used to host new oyster larvae.
Last month Stockton's Marine Field Station worked with the Jetty Rock Foundation, to plant about 150,000 spat, or baby oysters, that had been started by Parsons Mariculture.
That spat used a combination of whelk shells purchased by Dale Parsons, and the first batch of recycled clam and oyster shells from The Old Causeway Steak and Oyster House and Mud City Crab House in Manahawkin, whose owner Melanie Magaziner piloted a shell recycling project in 2015.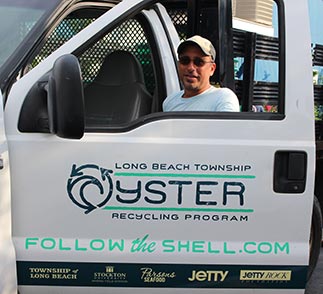 Joe Mangino picks up used shells from restaurants for the recycling project
Jetty Rock funded this year's planting and is raising money for future plantings.
Long Beach Township Mayor Joseph Mancini said when he heard about the project he contacted Steve Evert, manager of the Stockton University Marine Field Station, to see how he could help. Township sustainability coordinator Angela Anderson recruited six restauranteurs, and the mayor agreed to provide the manpower and truck to pick up and transport the shells.
"It's a great cause, and there is less stuff going into the landfill," Mancini said.
Mangino said Monday is his biggest day, with an average of about 20 bushels, each weighing about 50 pounds. His truck can handle as many as 36 bushels, and Anderson has been recruiting more restaurants.
The restaurants get small metal buckets promoting the recycling project to put on tables so customers can keep the shells separate from other waste.
"I pick through to make sure there is no trash," Mangino said as he noticed a seafood fork mixed in one bushel.
Participating restaurants include the Blue Water Café, Stefanos, Parker's Garage and Oyster Saloon, Bistro 14, Howard's Seafood Restaurant, and Delaware Avenue Oyster House & Bar.
"We try to make it as easy as possible for the restaurants," said Anderson, who is also a producer of a documentary "The Oyster Farmers" which premiered last month at the Stafford Township Arts Center.
Once plentiful, New Jersey's oyster population plummeted due to changes in water quality, disease and overharvest.
Evert is pleased with how the spat has adhered to the recycled shells. He said the next few years will be crucial to see how the oysters fare in the Tuckerton Reef site.
"They could get eaten, they could die," he said, adding that the first batch planted last year are growing and looking good. This year's new spat is larger after Parson's installed a new system that fed them more consistently in the tanks.
Both Anderson and Mangino are graduates of Stockton with degrees in environmental studies. They say raising awareness of the oyster industry and its role in the bay is as important as keeping waste out of the landfill.
"These shells should not spend their life in a landfill," Anderson said. "They have too important a role here."
The restoration project partnership also includes The American Littoral Society and receives funding from a $52,000 grant from the Barnegat Bay Partnership's shellfish research program.
For more information about Stockton University, visit Stockton.edu.
Contact:
Diane D'Amico
News and Media Relations Director
Galloway, N.J. 08205
Diane.D'Amico@stockton.edu
(609) 652-4593
stockton.edu/media