Stockton Women Second, Men Fourth in NJAC Championships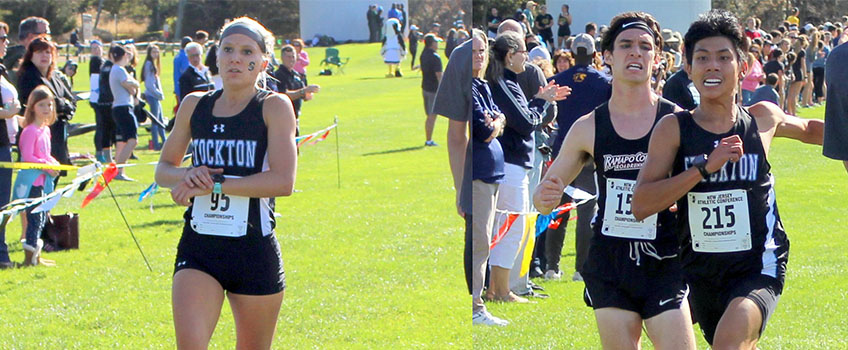 Galloway, N.J. – Stockton University finished second in the women's meet and fourth in the men's meet at the New Jersey Athletic Conference Cross Country Championships, held Saturday at Stockton. Up next, the Stockton teams will head to New York to compete in the NCAA Atlantic Regionals Nov. 11, at Houghton College.
Five Ospreys placed in the top 14 of the women's race, and two were in the top 10 of the men's race.
Alicia Belko (Hainesport/Rancocas Valley) finished second out of 100 female runners with a 6K time of 21:59.22. Belko not only improved upon her third-place finish in 2016, but also equaled the best finish ever by a Stockton woman at the NJAC Championship (Cassandra Hrusko, 2016).
Christina Welsh (Hamilton/Hamilton West) placed eighth at 23:42.08 and Caitlin Glynn (North Plainfield/Union Catholic) was 10th in 23:54.70. Regina Duncan (Frelinghuysen Township/North Warren) finished 13th with a time of 24:10.26 followed by Juliana Garruto (Tinton Falls/Monmouth) in 14th place three seconds later (24:13.23).
Freshman Daniel Do (Galloway/Absegami) paced the Stockton men's team by finishing seventh out of 89 runners with a time of 25:47.58 for 8K. Joe D'Amico (Bayville/Central Regional) snagged the last spot in the top 10, crossing the line at 26:06.99.
Matt Cohen (Robbinsville/Robbinsville) was Stockton's third finisher, with a time of 27:11.56 for 29th place. John Slack (Audubon/Camden Catholic) was 34th at 27:28.44 and Christian Mele (Cherry Hill/CH East) finished 44th in 28:00.22.
The College of New Jersey women and Rowan University men won the NJAC team titles. The conference meet was held at Stockton for the second straight year. Last season, the Osprey women's team won the NJAC championship for the first time ever.
Contact:
Chris Rollman
Sports Information Director
Galloway, N.J. 08205
rollmanc@stockton.edu
(609) 626-6011
www.stocktonathletics.com