U.S. Supreme Court Justice Gorsuch to Speak at Stockton
Galloway, NJ – United States Supreme Court Associate Justice Neil M. Gorsuch will speak at Stockton University at a special event for students, faculty and staff at 2:45 p.m. on Jan. 23, 2018.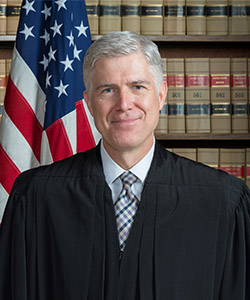 The William J. Hughes Center for Public Policy at Stockton will host Justice Gorsuch as a special academic initiative for the Stockton community. It will not be open to the general public.
"We are honored to welcome Justice Gorsuch to the University," Stockton president Harvey Kesselman said. "This will be a once-in-a-lifetime opportunity for Stockton students to hear directly from a sitting Justice about the crucial role of the U. S. Supreme Court."
Justice Gorsuch was born in Denver, Colorado in 1967. He received a B.A. from Columbia University, a J.D. from Harvard Law School, and a D.Phil. from Oxford University. He served as a law clerk to Judge David B. Sentelle of the United States Court of Appeals for the District of Columbia Circuit, and as a law clerk to Justice Byron White and Justice Anthony M. Kennedy of the Supreme Court of the United States.
From 1995-2005, he was in private practice, and from 2005-2006 he was Principal Deputy Associate Attorney General at the U.S. Department of Justice. He was appointed to the United States Court of Appeals for the Tenth Circuit in 2006. He served on the Standing Committee on Rules for Practice and Procedure of the U.S. Judicial Conference, and as chair of the Advisory Committee on Rules of Appellate Procedure. He also taught at the University of Colorado Law School.
President Donald J. Trump nominated him as an Associate Justice of the Supreme Court, and he took his seat on April 10, 2017. He and his wife Louise have two daughters.
# # #
Contact:
Diane D'Amico
Director of News and Media Relations
Galloway, N.J. 08205
Diane.D'Amico@Stockton.edu
609-652-4593
stockton.edu/media