Stockton Welcomes Retired Professor and Mayor Nancy Taggart Davis as New Trustee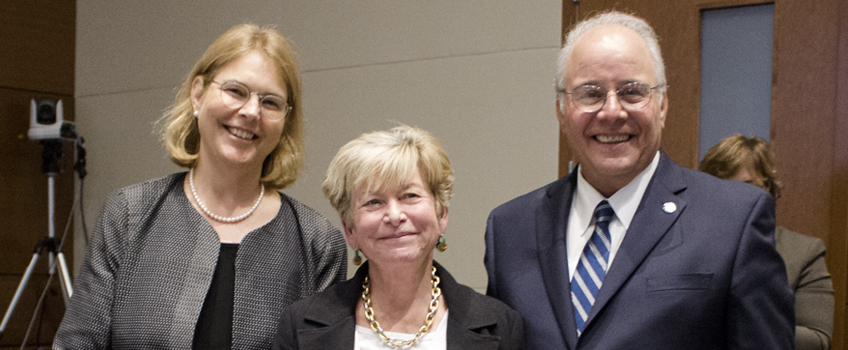 For Immediate Release; with photos on flickr
Contact: Maryjane Briant
News and Media Relations Director
Galloway, N.J. 08205
Maryjane.Briant@stockton.edu
(609) 652-4593
stockton.edu/media

Galloway, N.J. - Nancy Taggart Davis, the mayor of Beach Haven and a Professor Emerita of Pathology at Stockton, today was sworn in as a member of the Board of Trustees.
Davis taught at Stockton from 1973-2015, and served from 1984-87 as dean of the Division of Professional Studies, which included business, computer and information science, health sciences and education. She has been mayor of the Long Beach Island community since 2015, where she had previously served as a councilwoman and as president of the Borough Council.
Davis holds a Ph.D. in Comparative Pathology from the University of Pennsylvania. She has a B.S. in Biology and Theatre Arts from Rollins College in Winter Park, Fla.
"Dr. Nancy Davis has been an extremely dedicated faculty leader at Stockton throughout its history," said President Harvey Kesselman. "We welcome her back in a new role on the board, where her experience and expertise in public service, higher education and government will serve the community beautifully. We are so fortunate she agreed to serve."
"I am deeply honored to have been appointed to Stockton University's Board of Trustees," Davis said. "Joining Stockton's faculty in 1973 was one of the best decisions I ever made, and I am so pleased to be able to continue working on behalf of this great institution and its students, faculty and staff. Stockton has achieved so much in the past 45 years, but I honestly believe its best days lie ahead and I am incredibly excited to help guide its future growth."
The board also heard from about 200 members and supporters of Stockton's American Federation of Teachers, who demanded that the board and Kesselman use their influence to help resolve contract negotiations at the state level. Statewide, the higher education faculty union has been without a contract or any raises since 2015.
Anne Pomeroy, president of the Stockton local and a professor of Philosophy, recently sent an open letter to Kesselman and the Stockton community with a resolution asking that he and the presidents of nine other state colleges and universities go on record about their positions on four items. Today she reiterated, "We believe that the university and its trustees have not only a right but a duty to weigh in on these matters":
Do you support the principle of contract retroactivity in which no side unfairly benefits or is penalized from delays?
Does your university have the resources to pay for modest salary increases and step resumption retroactive to July 1, 2015?
Are you supportive of the proposed modification in the contract to base science lab and studio faculty teaching credits on student credit hours paid?
Are you supportive of reducing multi-year contracts for professional staff?


Union members shouted a series of chants at timed intervals without disrupting the meeting, including: "Pass the Resolution, Do It Now;" "SFT United Can Never Be Divided," and "1-2-3-4, We won't take it anymore; 5-6-7-8, Why won't you negotiate?"
Kesselman had issued a response to Pomeroy's open letter, which said in part: "Please know that I am extremely sensitive to the financial burden and sacrifices our employees are experiencing as they continue to work without a contract. However, as you are aware, the agreement between the State of New Jersey and the Council of New Jersey State College Locals, by law, is negotiated by the Council with the Governor's Office of Employee Relations (OER). Because of this, the university is not permitted to negotiate directly with SFT Local 2275."
Today, Board Chair Madeleine Deininger told the union, "The Board of Trustees is very aware of the current situation. We are not ignoring you....Personally I am greatly sympathetic and extremely frustrated with this almost two-year-long quagmire that impacts not only the SFT but the members of the CWA and PBA as well.
"Unfortunately, you give us too much credit for having the power to change things."
Deininger also said, "President Kesselman has made it clear that Stockton is unable to respond to your questions.....I also know that the president truly believes that the time has come to re-evaluate the need for statewide negotiation of contracts. While he respects the role of unions greatly....clearly it seems as though something needs to change in the future."
She noted that Stockton has set aside funds for union and managerial raises. "I am hoping that progress will be made with negotiation by the end of the fiscal year so that we can move forward."

Pomeroy read a series of anonymous testimonials from faculty members saying how their lives and careers have been seriously impacted by the lack of contracts and raises. One said that he and his wife want to have another child but feel they cannot, because of the financial constraints.
"Sometimes I have to resort to buying food with a credit card," said another. "I love Stockton, I hate this situation," said a third.
Emari DiGiorgio, an associate professor of Writing with 10 years' experience, said, "It's disheartening and demoralizing. I realize you cannot deliver us a contract, but you can show the governor and the state that you stand with your faculty and staff."
Tim Haresign, associate professor of Biology and president of the Council of N.J. State College Locals, which represents faculty at nine four-year state colleges, said, "We have a wonderful relationship and a pretty unique community...but this is creating an ugly rift and will get worse and be hard to heal."
"I do feel the pain you're articulating," said Kesselman, adding that he agreed that some sticking points on the state negotiating table "don't make sense for this institution and I have articulated that." He said he would not stop until there's a resolution, "but I have to play by these rules."
"I implore all of you to be a united front" with other college campuses throughout the state, he said.
"You are a united force here. Every union has to be as united for that voice to be heard in Trenton. Your work too is statewide, as my work is statewide."

In other business, the board approved a new mission statement for the university. This effort was led by the Shared Governance Task Force, which includes faculty, staff, students and administrators. The task force collaborated with the entire university community to create the statement, which was then endorsed by the Leadership Council, comprised of the president's cabinet, deans, directors and the president of the Faculty Senate; and the president. The previous mission statement was first adopted in 1975 and was not much altered over the years.
The new statement reads:
"Stockton University's mission is to develop engaged and effective citizens with a commitment to life-long learning and the capacity to adapt to change in a multi-cultural, interdependent world. As a public university, Stockton provides an environment for excellence to a diverse student body, including those from under-represented populations, through an interdisciplinary approach to liberal arts, science and professional education."

The document further outlines the university's vision, guiding principle ("students first; vision and strategy follow") and values, including excellence in teaching and dedication to learning, inclusivity and diversity; academic freedom; integrity and respect; shared governance; community engagement and civic responsibility; global perspectives; sustainability and environmental stewardship.
The board also approved a resolution which will enable about 10 Iraqi students, and later potentially other students from war-torn areas, to earn their Genocide Prevention Certificates in an online program that is the first of its kind in the world.
The Genocide Prevention Certificate at Stockton was founded in 2015 by Holocaust and Genocide Studies Professor Elisa von Joeden-Forgey, who is currently in Iraq where she met with the students this week.
After receiving a $40,000 donation from Michael Azeez, a prominent businessman and civic leader, the board agreed to waive the remainder of the $78,000 cost for the Iraqis. The agreement provides for when there is a group of participants from areas with ongoing conflict and social tensions, and when there has been a donation to cover at least half the cost, the board will match the donation by waiving the remaining cost.
Through the Azeez Foundation, Stockton received its largest gift to date in 2011: $5 million used to establish the Sam Azeez Museum of Woodbine Heritage Endowment Fund.

The board also voted to increase housing rates for the next academic year, ranging from 1 percent for a double room at Stockton Seaview Hotel & Golf Club to 3.5 percent increases at the Chris Gaupp Road facility. The majority of the increases were 2 percent at eight types of rooms or apartments in Housing 2-4. A four-person shared apartment (two bedrooms) in Housing 1 and a four-person private apartment (four bedrooms) in Housing 5 are each increasing 3 percent.
# # #