Military Times Ranks Stockton Among Best for Veterans
Galloway, NJ _ Stockton University is ranked 16th in the nation in providing services to veterans according to the Military Times Best: Colleges 2018 ranking released Monday.
Formerly known as Best for Vets: Colleges, this year's ranking includes 218 colleges and universities.
In announcing the rankings, Military Times said they were more competitive than ever this year, with a record number of schools participating in the rigorous annual survey for consideration. Fewer than half made the cut. Stockton also ranked 16th in 2017.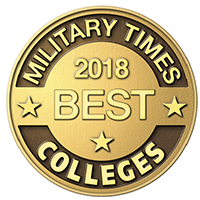 Colleges are evaluated based on their survey responses and also data from the federal Education, Defense and Veterans Affairs departments. Schools are ranked in five categories: university culture, academic quality and outcomes, policies, student support, and cost and financial aid.
Stockton President Harvey Kesselman said he is proud that Stockton continues to be one of the best colleges in the nation for veterans.
"Stockton has been committed to serving veterans and active military since the college opened in 1971, when Vietnam-era veterans attended Stockton and helped develop our programs," Kesselman said. "We are honored to be recognized for serving those who have so honorably served our country."
Jason Babin, director of Stockton's Office of Military and Veterans Services said the university's commitment to veterans continues to grow to meet student needs.
Stockton hosts a Students Veterans Organization and has a dedicated Veterans Lounge. The Wellness Center provides specialized counseling to help veterans integrate into college and civilian life, and has offered specialized courses that allow veterans to better understand their experiences in the larger context of history.
On Veteran's Day Stockton was designated as a veteran-friendly college by the New Jersey Order of the Purple Heart, one of just three colleges in the state to receive the designation.
"From the top down we continue to adapt and enhance our program to provide the best support possible," Babin said. "We are honored to be ranked in the top 20 in the nation, and we will not rest until every service member and veteran is successful."
Contact:
Diane D'Amico
Director of News and Media Relations
Galloway, N.J. 08205
Diane.D'Amico@Stockton.edu
609-652-4593
stockton.edu/media