Basketball Court Named for Gerry Matthews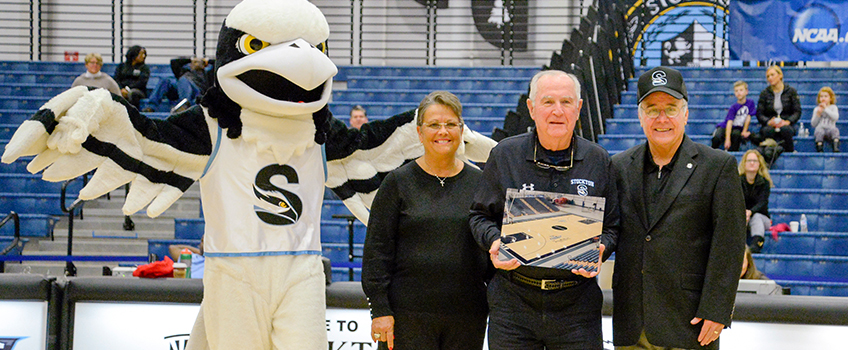 Galloway, NJ _ The basketball court at Sports Center was officially named "Gerry Matthews Court" on Saturday afternoon in a ceremony at halftime of the Ospreys men's team's game with William Paterson University.
Matthews name is now written at the ends of the court. President Harvey Kesselman presented Matthews, 75, and his wife, JoAnne, with a framed photo of the court.
Matthews coached the men's team for 30 seasons and had a 603-243 record. He set a New Jersey college record for wins, surpassing long-time Princeton coach Pete Carril in November, 2012.
During his career, Matthews led Stockton to 16 NCAA Tournament berths, two Final Four appearances, and 18 20-win seasons, including his last five years. Matthews won NJAC championships in four different decades for a total of nine league titles. In addition, his teams played in the NJAC championship game 16 times in 30 seasons. His teams never had a losing season.
His final victory was a 60-53 NJAC title win over The College of New Jersey in 2016. He retired in August of 2016.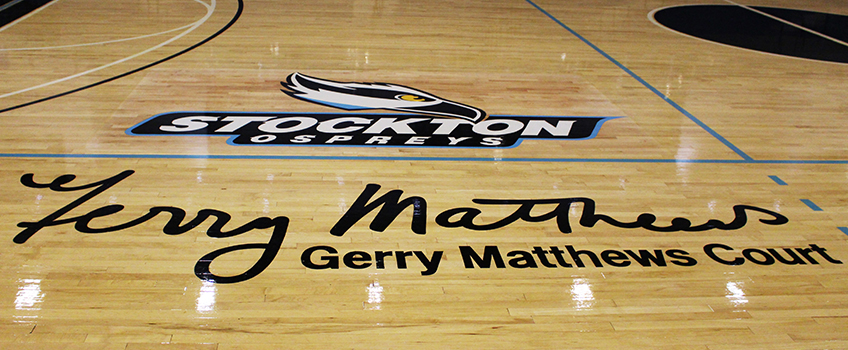 Chris Rollman
Sports Information Director
Stockton University
(609) 626-6011
www.stocktonathletics.com