Matthew Sandusky: You Can Prevent Child Sex Abuse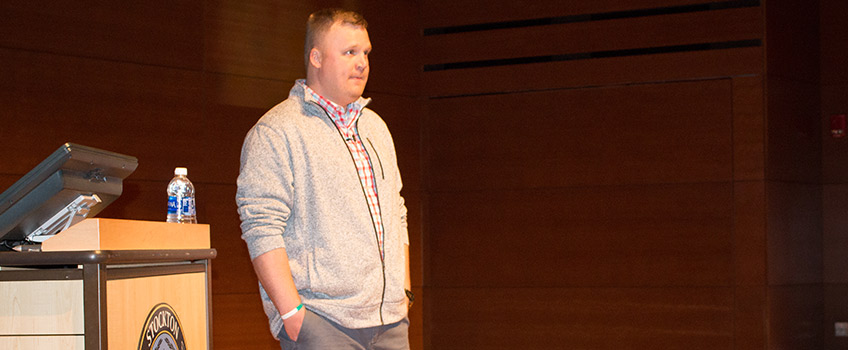 For Immediate Release; with photos on Flickr
Contact: Maryjane Briant
News and Media Relations Director
Galloway, N.J. 08205
Maryjane.Briant@stockton.edu
(609) 652-4593
stockton.edu/media
Galloway, N.J. - Matthew Sandusky's first memory is of sitting on a bed at age 3, and "my biological father is burning my toes with a cigarette lighter."
More years of beatings and other horribly dysfunctional family life followed, leaving him vulnerable to Penn State assistant football coach and sexual predator Jerry Sandusky, who came into his life when a guidance counselor thought positive male mentorship through Sandusky's Second Mile organization would help Matthew.
"The man who sexually abused me groomed the whole country and world," Matthew Sandusky said of his adoptive father, who could be charming and also appeared to be above reproach.
Speaking at Stockton University March 2 in the first of two presentations, Sandusky, 38, characterized Jerry Sandusky as "the fun guy," who was always throwing kids in the pool and wrestling with them.
"At Penn State, people just worship men for playing games," he said of the football culture. He said late coach Joe Paterno "ran the town," and "the guy who sexually abused me was the second in charge."
He explained how Jerry appeared to be the perfect man, who never drank, smoked, cursed; who stayed married to his wife, Dottie, and went to church every Sunday. "I witnessed grown adults fighting with each other to get close to him," he said, "knowing this man had me right at his side - he wanted me there. It made me feel special."
Even though he felt uncomfortable when Jerry Sandusky began to touch him, he wasn't sure it was wrong, because his biological family had never hugged or kissed or said they loved him.
"So I thought this must just be how normal people are... I rationalized and told myself I must be the weird one, not him."
He said as a child, he didn't want to give up all the good times he had with Jerry, unlike his life with his biological family. "Ninety percent of the time with this person - my father - he was wonderful. But the 10 percent of the time he was sexually abusing me, changed my life. He threw me down a path I should never have been on.
"That's why I do everything I do - we can't continue to allow this to happen."
The Jerry Sandusky child sex abuse scandal at Penn State was one of the most highly publicized such cases in history. He was convicted of 45 charges of child sex abuse in 2012 and sentenced to 30-60 years in prison. During the trial, Matthew disclosed that from ages 10-16, his adoptive father sexually abused him. His interview with police was leaked to the media and he and his family were placed in the center of a media and community firestorm.
As founder of Peaceful Hearts Foundation, along with his wife Kim, Sandusky helps promote stronger statute of limitation laws, education for children and adults, a survivor fund to help alleviate costs of treatment for children who have been sexually abused, stronger mandated reporting laws, and other legislation.
On Thursday, he was introduced by Dean Cheryl Kaus of the School of Social and Behavioral Sciences, a Penn State alumna whose friend, a clinical psychologist who helped break the Sandusky case, told her about Matthew and his foundation.
Throughout the evening, he would not say Jerry Sandusky's name. He called him, "this person," "the second in charge," "this man."
He explained how as he got older, he was ashamed and tried to escape. He said sexually abused children can feel "complicit," when the body "reacts in a way you don't want it to.... You question yourself," he said, thinking, "I must have wanted to do it, or maybe I'm gay."
He said he turned to drugs and alcohol, mutilating himself by burning his arms with hot metal to try to "alleviate the internal pain." He attempted suicide. He ran away but said he accidentally set fire to a barn while trying to keep warm, and was arrested.
Almost immediately, Jerry Sandusky found out and called him, telling him he would either have to go to a military boot camp and then prison, or he could become his foster child. "I didn't have a lawyer. I never had one person in my corner," he said, until he met his wife. So at age 16, he returned to the Sandusky home.
Years later, while watching another victim testify in Jerry's trial, he said he felt compelled to come forward. But after he told prosecutors that Jerry also had abused him, "the Sandusky family attacked me" and tried to discredit him because he had stolen, used drugs and burned down the barn in his youth.
Matthew said if Jerry had taken the stand in his own defense, he would have been called as a rebuttal witness. Jerry was aware of that, and he did not testify. "This guy could charm anybody - make you believe anything," he said. "So if I did anything to stop that show, then I'm proud."
He said after his disclosure, his children were taunted at school and he felt so ashamed and embarrassed that "I just wanted to die." But he said he "would never do that to my children and my wife." Now, Matthew said he is devoting his life to protecting children and helping survivors.
Through Peaceful Hearts, he is bringing together experts from the FBI and related fields to prevent child sexual abuse. He said he is working with schools to change the main focus of messaging away from "Stranger Danger," because "93 percent of all child sexual abuse is perpetrated" by those who are not strangers. He said children need to be taught that there are boundaries that no one has a right to cross.
"We want to involve all of you college students," he said. "I ask you to please, please, please start a conversation about child sexual abuse. Notice how difficult it is. Notice how you feel. But that's going to pale in comparison to what any adult survivor has been feeling for years. You can have a big impact. It helps to hear somebody say something, so they understand they're not alone."
He called child sex abuse "a preventable crime" and said: "You can end this. Add your voice to those of us who are speaking." He also urged anyone in the audience who was a victim to seek help.
Kaus noted that Stockton has started a Victimology and Victim Services Minor which trains graduates to deal with these problems in society.
After his speech, Sandusky responded to written questions from the audience. One asked about how to tell whether someone is grooming a child or is just being a close family member.
"Trust your gut," Sandusky said. He added that you can educate yourself about the signs, pay close attention and have conversations with the child and the person you suspect about what is happening. "There should be nothing above protecting a child," he said, when weighed against the possibility of offending the adult.
Another question read: "I was sexually abused by a deacon. Do you ever stop being angry deeply?"
"For me, yes," said Sandusky. "But I've talked to others - some men and women in their 60s - who are as angry as they have ever been. ...My therapist taught me, none of us walks the same path. I hope you are in therapy and really figuring it out.... but don't judge yourself. Don't feel that you shouldn't be angry. You have people who can help you through things - there are resources in this community," he said, pointing to information on the back of the program on how to notify authorities and get help.
He was asked whether he thinks the criminal child sexual assault charges filed recently against Jeff Sandusky, another member of the Sanduskys' adopted family, are related to Jerry Sandusky's crimes.
He said of Jeff, "I hope he is prosecuted and thrown in jail for as long as the law will allow and I'm hopeful the victims are receiving the love and support they deserve."
But he stopped short of calling the sins of the father the cause of Jeff's alleged crimes. He discounted the "vampire myth," that male children who are sexually abused automatically will become child sex abusers.
Later, Sandusky signed copies of his recent memoir titled, "Undaunted: Breaking my silence to overcome the trauma of child sexual abuse." Besides telling his story, the memoir is designed to be an educational tool for the reader on the issue of child sexual abuse.
On March 3, Sandusky was to speak at the Conference on the Victimization of Children for legal and medical professionals, teachers, counselors and social workers.