Sen. James Beach visits Stockton as 2017 Legislator-in-Residence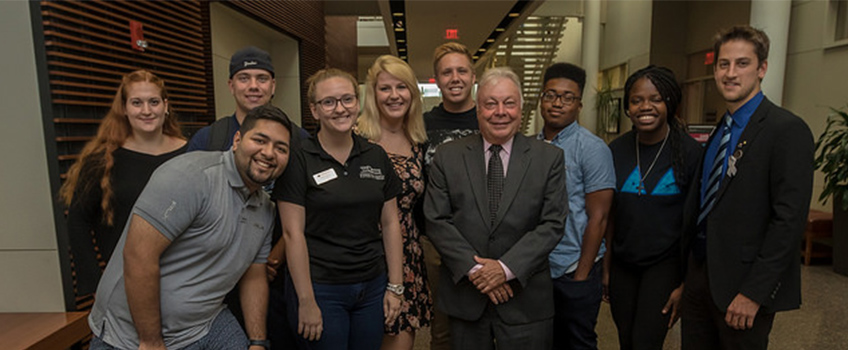 GALLOWAY, N.J. - State Sen. James Beach visited Stockton University on Sept. 26-27 as the Legislator-in-Residence, a bipartisan program that alternates visits from legislators from each party, hosted by the William J. Hughes Center for Public Policy.
Beach, of Voorhees Township, in Camden County, represents the 6th Legislative District and serves as Senate assistant majority leader. He is chairman of the Military and Veterans Affairs Committee and a member of the Education Committee.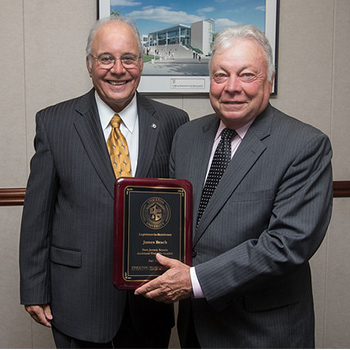 Beach began his visit with a tour of the Campus Center before meeting with Jason Babin, director of the Office of Veteran & Military Services, and student veterans, who spoke about veterans services and health care. He thanked the veterans for their service, as he did in every class he visited in which a veteran was a student.
He also met with Joe Marchetti, professor of Education in the Organizational Leadership program; and Holocaust Resource Center staff.
Throughout the second day, the senator attended classes, including Tools for Social Change, taught by Adjunct Instructor Rona Whitehead; Introduction to Politics, taught by Assistant Professor of Political Science (POLS) Lauren Balasco; and Group Politics, taught by Assistant Professor of POLS Claire Abernathy. He also had lunch with President Harvey Kesselman and others members of University leadership.
Beach visited the Coastal Research Center, where director Stewart Farrell and staff shared research on erosion along the New Jersey coast. He also toured the Stockton Polling Institute and the William J. Hughes Center for Public Policy and met with Hughes Center Executive Director Sharon Schulman.
"The Legislator-in-Residence program provides valuable opportunities for Stockton students, faculty and staff to learn first-hand about politics, policy and state law," said John Froonjian, who organized the visit and accompanied the senator throughout his visit. "It's also a great way for state lawmakers to get to know Stockton."
A former teacher, guidance counselor and school administrator, Beach said it was exciting to be back in the classroom talking with students and faculty and he was impressed with their enthusiasm and interest.
"It was very refreshing to meet with young people who are our future leaders," he said. He was also impressed with the diversity of academic offerings at Stockton.
Beach was especially interested in the high school dual-credit program, and said he would like to connect school superintendents in his district with Stockton staff to learn more about such specialized courses such as Holocaust and Genocide Studies for high school students.
Past legislators-in-residence have included Senate President Steven Sweeney, Assembly Speaker Sheila Oliver and Senators Loretta Weinberg, Jim Whelan, Joseph Kyrillos and Chris Connors, a Stockton graduate.
Contact:
Diane D'Amico
Director of News and Media Relations
Galloway, N.J. 08205
Diane.D'Amico@stockton.edu
(609) 652-4593
www.stockton.edu/media