Some 500 High School Students Attend Latino Visitation Day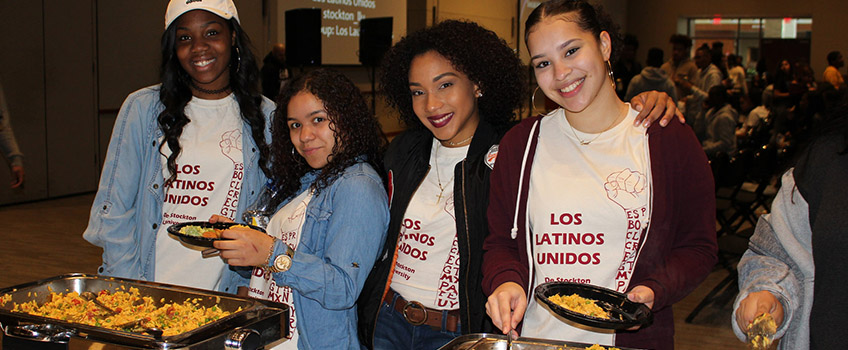 Galloway, NJ _ Some 500 juniors and seniors from 11 area high schools got a taste of Stockton during the annual Latino Visitation and Diversity Day.
The event, coordinated by Assistant Director of Admissions Heather Medina, is designed to introduce students to the opportunities Stockton can offer them.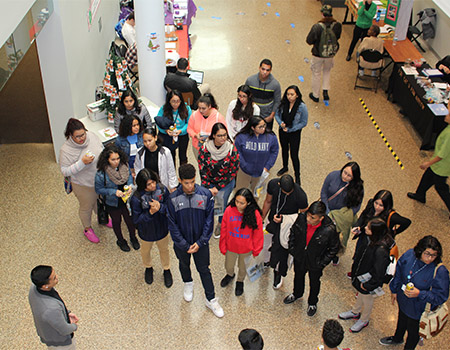 "They get to tour the campus and meet with current students and members of clubs like Los Latinos Unidos," Medina said. She said the event is successful in recruiting students to Stockton.
"We know there is a higher enrollment rate if we can get them here to visit," she said.
Medina, a native of Camden, is also a Stockton graduate.
Many Latino students in southern New Jersey would be the first in their families to go to college. Stockton has held Latino Visitation Day since 1987. About 13 percent of Stockton students identify as Hispanic/Latino.
Yvette Pruitt, an advisor and counselor at Creative Arts Morgan Village Academy in Camden brought 21 students to the event.
"We come because we know it's an outstanding program here and a great opportunity for our students," said Pruitt, whose niece is a Stockton graduate. "I know some of them will definitely apply. Our tour guide was outstanding."
Student Ambassadors led the tours and members of Los Latinos Unidos interacted with the students during a lunch of salad, rice, empanadas and churros.
Other participating high schools included Absegami, Oakcrest, Camden, Egg Harbor Township, Pleasantville, Pennsauken, and Woodrow Wilson High School in Camden.
# # #
Contact:
Diane D'Amico
Director of News and Media Relations
Galloway, N.J. 08205
Diane.D'Amico@Stockton.edu
609-652-4593
stockton.edu/media