Japanese cultural performances highlight paper art exhibit at Stockton Art Gallery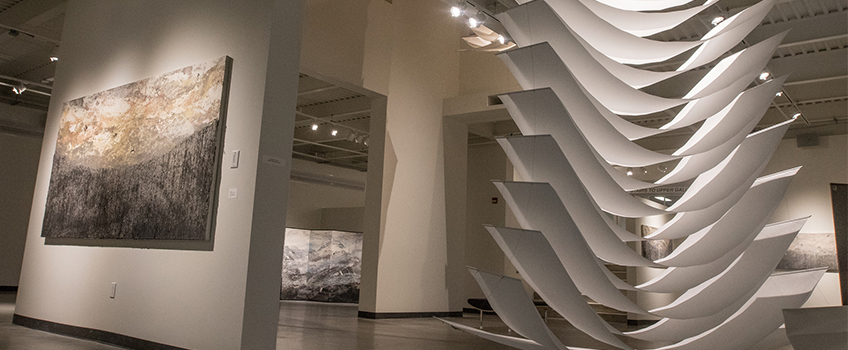 Galloway, NJ- A series of special performances highlighting Japanese culture are being held at Stockton University Nov. 14-18 to celebrate the exhibit of paper art by Japanese artist Kyoko Ibe currently on display in the Stockton Art Gallery.
All events are open to the public, and most are free.
The highlight will be performances of "Recycling: Washi Tales" in which four tales of paper making from Japanese history will be told, incorporating the works of the exhibit into the performance.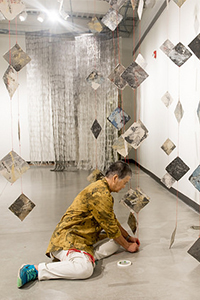 "Washi" or traditional hand-made paper, goes back to the 7th century. A special technique of making paper from tree fiber as the raw material was developed and became the prototype for washi.
Ibe's new approach to paper combines a respect for tradition and technological experimentation. She creates large-scale installations, stage sets and costumes.
On Nov. 14 Ibe gave a talk in the Art Gallery, explaining how she combines modern and ancient techniques and is inspired by the landscapes she has seen.
"The color is all natural materials," she said, explaining how she mixes them with the paper. The gold colors come from mica, and blues from lapiz lazuli and turquoize powder.
Panels of hand-twisted kozo paper hang like lace-like curtains in one corner of the exhibit. In another area waves of paper hang from the ceiling.
The free art exhibit, titled "Once Upon a Time" is on display through November 18 during Art Gallery hours, Monday-Saturday, noon to 7:30 p.m. The gallery is located next to the Performing Arts Center.
The remaining schedule of events includes:
Nov. 15, 3:30 p.m. _ Shirabyoushi Dance by Makiko Sakurai in the Campus Center Theatre. Free.
Nov. 16, 2:30 p.m. _ Biwa Tradition and Shomyo Chant by Shizu Arai and Makiko Sakura in the Alton Auditorium. Free.
Nov. 16, 4:30 p.m. _ Noh Drumming by Shonosuke Okura in the Alton Auditorium. Free
Nov. 17 and 18, 7:30 p.m. _ "Recycling: Washi Tales" performance and Talk Back: Cross-Cultural Storytelling, Elise Thoron and the performers, in the Art Gallery. Tickets are $12 or $10 for students and seniors.
Tickets can be purchased at the Stockton Performing Arts Center Box Office 609-652-9000 or stocktonpac.org. Seating is limited. The performance begins in lower art gallery and moves through exhibition.
The exhibit and performance are sponsored by the Stockton Visual Arts Program, Performing Arts Center, School of Arts and Humanities, Office of the President's 2020 Initiative and the Japan Foundation. Additional funding has also been provided by the N.J. State Council on the Arts/Department of State, a partner of the National Endowment for the Arts, through local grants administered by the Atlantic County Office of Cultural and Heritage Affairs.
# # #
Contact:
Diane D'Amico
Director of News and Media Relations
Galloway, N.J. 08205
Diane.D'Amico@Stockton.edu
609-652-4593
stockton.edu/media