Japanese artist Kyoko Ibe's Handmade Paper Art at Stockton Gallery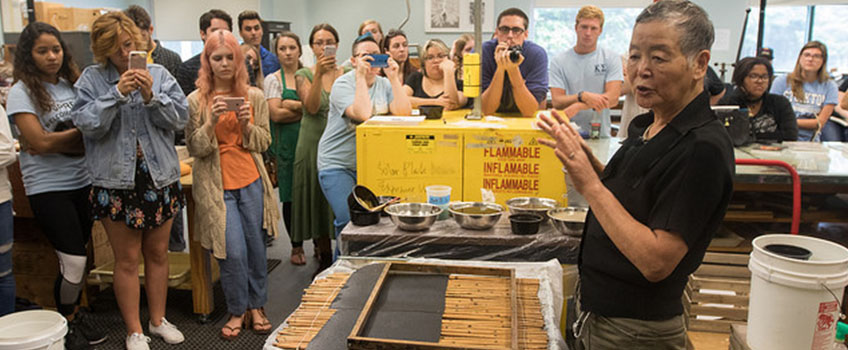 Galloway, N.J. - Japanese paper artist Kyoko Ibe will present an exhibit and play at the Stockton Art Gallery now through November.
The exhibit, titled "Once Upon a Time" features artworks made of "washi" or handmade paper. Ibe created the exhibit out of paper she made. Ibe and assistant Tamura Tadashi installed the exhibit, and will also perform an original play "Recycling: Washi Tales" in November.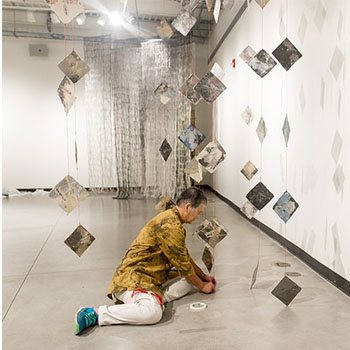 The play, written by New York playwright Elise Thoron, takes place within the art installation. A storyteller narrates the story of papermakers over time.
The performance moves between the narrator, actors performing different styles of Japanese theatre, and musicians playing traditional instruments. The narrator also makes paper onstage as part of the performance. The two-story design of the Stockton Art Gallery provides opportunities to innovate the production.
A performance of Washi Tales is scheduled for 7:30 p.m. Friday, Nov. 17 and Saturday Nov. 18 at the Art Gallery. Tickets are $12 for the general public, $10 for students and seniors. Seating is limited.
The public can view the free exhibit during regular Art Gallery Hours, Monday-Saturday 12-7:30 p.m. and Sundays 12-4 p.m. The gallery is located next to the Performing Arts Center.
The exhibit and performance are sponsored by the Stockton Visual Arts Program, Performing Arts Center, School of Arts and Humanities, Office of the President's 2020 Initiative and the Japan Foundation. Additional funding has also been provided by the N.J. State Council on the Arts/Department of State, a partner of the National Endowment for the Arts, through local grants administered by the Atlantic County Office of Cultural and Heritage Affairs.
Contact:
Diane D'Amico
Director of News and Media Relations
Galloway, N.J. 08205
Diane.D'Amico@stockton.edu
(609) 652-4593
www.stockton.edu/media
# # #