Stockton Names Kevin McHugh, N.J. Native with Over 30 Years' Experience, as New Athletic Director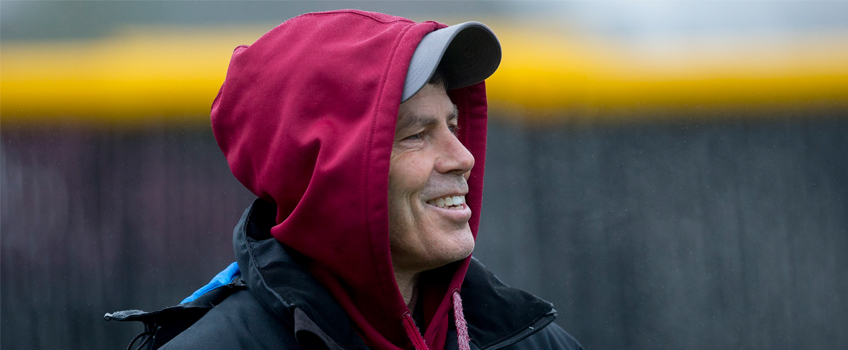 For Immediate Release; with photos attached, captions below
Contact: Maryjane Briant
News and Media Relations Director
Galloway, N.J. 08205
Maryjane.Briant@stockton.edu
(609) 652-4593
stockton.edu/media

Galloway, N.J. - Kevin McHugh, a New Jersey native who comes to Stockton after a highly successful 10 years as Director of Athletics at Bates College in Maine, today was named to lead the Ospreys as Athletic Director beginning July 1.
McHugh brings over three decades of athletic administrative experience, with earlier positions at Yale University, Bowling Green State University and The College of New Jersey.
"Kevin McHugh's extraordinary record of success includes more than two dozen NCAA team championships, the most recent at Bates in women's rowing, individual national titles for numerous athletes, hosting multiple NCAA championships, taking leadership roles in NCAA governance, and as an outstanding athlete himself," said President Harvey Kesselman.
"But most importantly, he has distinguished himself in both public and private Division III athletic programs through his dedication to student-athletes and coaches, for celebrating differences, and as a supporter of LGBTQ inclusion at the national level. We are pleased to welcome Kevin back to his home state of New Jersey, and firmly believe that he is the individual who will lead the Ospreys to even greater heights."
McHugh, the oldest of 10 children, grew up in Wharton, in Morris County, N.J. and is eager to reconnect with family and friends, including his father, daughter, son and stepson, who all live in New Jersey and Pennsylvania.
"I am ecstatic to be joining the Stockton University family and want to express my sincerest thanks to Dr. Kesselman as well as to Walter Tarver and the search committee for their vote of confidence," said McHugh. "I felt so welcomed by everyone with whom I met when I came to campus and all were so enthusiastic about where the university is headed. To be at an institution that shares my affinity for a liberal arts education, that promotes the personal values that I cherish, that has a proud history of athletic success and that is on such an upward trajectory is truly gratifying! Not to mention the fact that it brings my wife and me back to New Jersey, where the majority of our family is located," said McHugh.
"I also am most fortunate to join a talented Athletics staff whose previous leadership built a terrific program starting with the legendary Larry James, with whom I had the privilege to work for nearly 20 years at TCNJ, and then Lonnie Folks, who did a great job expanding on that foundation. Stockton with its location, its resources and its dynamic leadership is white hot right now and poised for even greater distinction.
"I am thrilled to be an Osprey and look forward to contributing to that rising trajectory!" he concluded.

McHugh graduated from Columbia University with a B.A. in Latin American studies in 1978. While there, he wrestled varsity all four years and twice was team captain, earning All-Ivy honors. At 134 pounds, he won 75 matches and was named Most Outstanding Wrestler by Columbia in his junior and senior years.
McHugh holds a M.S. in sport management from the University of Massachusetts, where he was an assistant wrestling coach and junior varsity football coach. He chaired the NCAA Division I Wrestling Committee, and the National Wrestling Coaches Association inducted him into the Division III Wrestling Hall of Fame for his contributions to the sport.
McHugh previously served as vice chair of the NCAA Division III Management Council, as a member of the NCAA Division III men's basketball committee, and as a member of the National Association of Collegiate Directors of Athletics executive committee.
At Bates, McHugh led a staff known for its commitment to improving the student-athlete experience, to diversity and inclusion, and to being a part of the community. During his tenure, Bates joined You Can Play, the national initiative for LGBTQ inclusion.
Other athletic department initiatives at Bates included student-athlete leadership training; educational programs focused on preventing sexual assault; and social justice programs.
Outside the job, McHugh has competed in the Boston, New York City and U.S. Marine Corps marathons, completing a total of 16 such races.
File photo credit:
Phyllis Graber Jensen/Bates College
# # #