Stockton Professor Meets with Pope Francis on Long-Term Genocide Prevention, after Visit to Iraq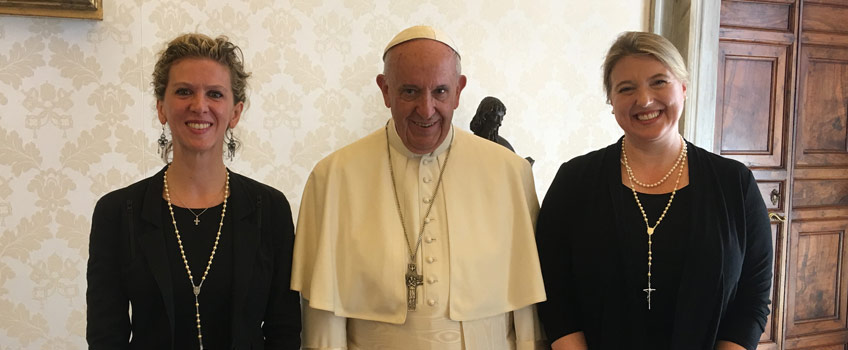 For Immediate Release;
Contact: Maryjane Briant
News and Media Relations Director
Galloway, N.J. 08205
Maryjane.Briant@stockton.edu
(609) 652-4593
stockton.edu/media
Galloway, N.J. - Elisa von Joeden-Forgey, Dr. Marsha Raticoff Grossman Professor of Holocaust and Genocide Studies at Stockton University, and her colleague, Irene Victoria Massimino, an Argentine human rights lawyer, met privately with Pope Francis at the Vatican on May 5 to discuss the situation of Christians and other religious minorities in Iraq threatened with genocide by ISIS (the Islamic State of Iraq and Syria).
Von Joeden-Forgy and Massimino were in Iraq just before their meeting with the pope. They met with students in the TeenSpirit Iraq English School, which von Joeden-Forgey started after her first trip to Iraq in January 2016, and members of persecuted groups such as the Yezidi religious group.
"The pope was gracious, generous, kind and brilliant," said von Joeden-Forgey. "He had very interesting things to say about genocide prevention and the suffering of unwanted people in today's world. He spoke with us for about 40 minutes and is clearly committed to the work of long-term genocide prevention. It was an indescribable honor to meet with him and to share a common concern for the people of Iraq specifically and the poor and dispossessed of the world more generally.
"Pope Francis invited us to meet with his new office of refugees on Monday," she continued. "There we were able to speak further about the challenges to peace in Iraq and the effects of global inequality on nurturing genocidal conditions around the world. We look forward to working more closely with Catholic organizations on peace and justice initiatives.
"The Catholic Church has a very important role to play in long-term genocide prevention," she added.
The professors' main concerns, and the focal points of their work, are the short- and long-term safety of minority communities, their ability to return safely to their historical lands in the Nineveh Plain and Sinjar Province, the free exercise of religion and cultural identity in Iraq and Iraqi Kurdistan, and the sustainable security of all the people of the region.
"Dr. von Joeden-Forgey's work in Iraq and around the world illustrates her personal courage and her deep commitment to genocide prevention, which Stockton is proud to support," said President Harvey Kesselman.
These meetings are part of a larger initiative, the Iraq Project for Genocide Prevention, which von Joeden-Forgey and Massimino launched in the past year in collaboration with the Genocide Prevention Certificate Program at Stockton University. The online genocide certificate program, the first of its kind in the world, was founded by von Joeden-Forgey in 2015. Massimino teaches as a consortium faculty member in the program.

Photo provided by Elisa von Joeden-Forgey
# # #