Atlantic City Hero Ibn Ali Miller Receives Leadership Award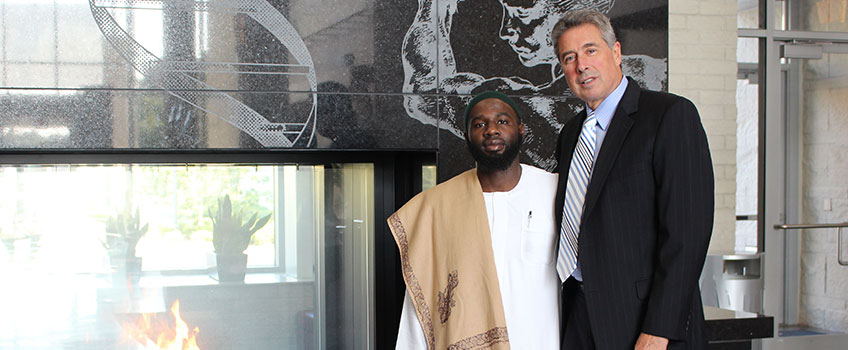 GALLOWAY, N.J. – Incoming Stockton University student Ibn Ali Miller demonstrated his passion for helping others earlier this year when he peacefully intervened when two young men began fighting in the middle of an Atlantic City street.
"We're so much better than that," said Miller, speaking about the violence and crime that occurs in the city. "Our parents raised us better than that."
A former student at The College of New Jersey, Miller, 26, has now decided to complete his degree at Stockton, where he is also the recipient of a Stockton Leadership Award and $1,000 scholarship.
Miller believes that everyone can be good and do well, even if they don't realize it.
"Before you can help develop young minds, you have to be able to understand them," said Miller on his decision to return to school and major in psychology.
His desire to help the youth and those he describes as being "at the bottom of the socio-economic totem pole" was a motivating factor for stepping in during the fight.
Miller's actions in March received national publicity, and although he has been regarded as a hero by many, Miller doesn't necessarily view himself as one.
"I'm just a kid from the city," he said.
Stockton Dean of Enrollment Management John Iacovelli said Miller will be a role model at Stockton.
"Ibn is the type of student that truly represents the best of the Stockton community," Iacovelli said. "He cares about others and is willing to step in and assist whenever he can."
Miller is juggling work and family responsibilities as he pursues his college degree, but looks forward to joining the campus community.
"I chose Stockton because I should have chosen it the first time," said Miller reflecting on the community of support he will have with Stockton being so close to home.
He's also excited for Stockton to become a part of his community when the new Atlantic City campus opens in fall 2018.
"Stockton is one of our neighbors now," Miller said.
# # #
Contact:
Diane D'Amico
Director of News and Media Relations
Galloway, N.J. 08205
Diane.D'Amico@stockton.edu
(609) 652-4593
stockton.edu/media