Rapper Talib Kweli to Speak at Hip Hop Summit Dec.7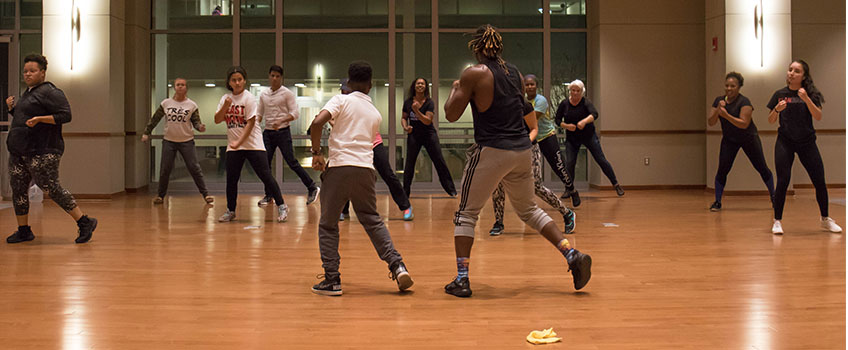 Galloway, NJ - Brooklyn-based rapper Talib Kweli will be the featured speaker at Hip Hop Summit 2017 to be held from 10:30 a.m. to 8 p.m. Thursday, Dec. 7 at the Stockton University Campus Center Theater.
The theme for this year's summit is "Stay Woke: Using Hip Hop as a Tool for Consciousness Raising."
The event, which features academic discussions and performances, is coordinated by Professor of Communication and Africana Studies Donnetrice Allison, and students in her Introduction to Hip Hop Culture class.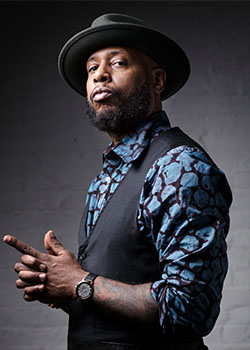 This will be the fourth Hip Hop Summit since the first in 2007. Allison said there is an ongoing discussion among hip hop scholars as to whether the original purpose of the genre, to serve as a voice for underrepresented communities, had been replaced by messages of materialism, sexism, drugs and violence.
Kweli, 42, is a hip hop recording artist, entrepreneur and social activist. He collaborated with Mos Def as half of Black Star, and has also worked with Kanye West, Just Blase, Madlib and Pharrell Williams in addition to producing his own work. In 2011 he founded his own record label, Javotti Media, which released his 2011 album Gutter Rainbows.
The program for the day is:
10:30a.m. to 12:20 p.m. - Panel discussions.
Panel 1: Student Perspective on the State of Hip Hop: Morganna Hodge on Women in Hip Hop, Haashim Smith-Johnson on Acceptance in Hip Hop, Jackson Glassey on Ghostwriting in Hip Hop, Cordell Irving on Violence in Hip Hop, and Brandon Mariano on Beef/Competition in Hip Hop.
Panel 2: Reflections on the Local Hip Hop Scene from A.C. to Philadelphia: Ray Tyler, Shawn Wright, Ryan Terrell, Zach Katzen and Garrison Paige, moderator.
12:30-1 p.m. - Freestyle Demonstration by Chris Barnes
2:30-3:30 p.m. - Panel 3: Hip Hop Scholarship: Attorney and Adjunct Professor of African American Studies at Temple University, Timothy Welbeck; Assistant Professor of Ethnomusicology at the University of New Haven, Patrick Rivers; Associate Professor of Philosophy at Susquehanna University, Lissa Skitolsky; Author and Associate Professor of English and Director of Africana Studies at Lehigh University, James Peterson, and Donnetrice Allison, moderator.
3:30 p.m. - Keynote talk and Q&A with Talib Kweli.
4:30 p.m. Reception in the Theater Gallery.
5:00 p.m. – Artist demonstration, Don Christian
5:30 p.m. Talent Performances (in the Board of Trustees Room) Anticipated performers include Group 5 Performance, MCs, Timothy Welbeck, B.L. Shirelle, J. Remedy, Sha Vlimpse, Kid Blair, Richie Sandoval, T. Diz, Street Star Entertainment, and Yung Chef. DJ Actin Up and DJ Young Hitta will also be featured.
The event is free and open to the public.
Contact:
Diane D'Amico
Director of News and Media Relations
Galloway, N.J. 08205
Diane.D'Amico@Stockton.edu
609-652-4593
stockton.edu/media