Graduate Symposium Shows Students Putting Research into Practice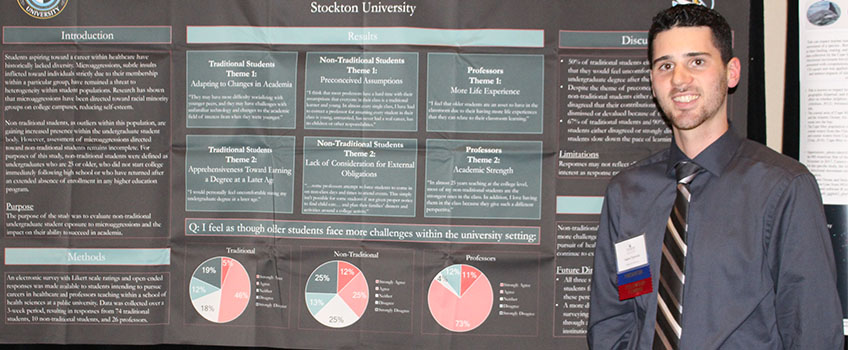 Galloway, NJ – John Kayes of Mays Landing is turning his Master of Business Administration degree into a business.
Osprey Drones, LLC, is Kayes' new aerial drone photography start-up. The retired Coast Guardsman said the skills he learned at Stockton helped him develop the business and management plan he needs to be successful.
Kayes presented his plans at Stockton's Graduate Research Symposium where he joined colleagues in other majors at the Campus Center Dec. 4 to share their projects and the results.
Kayes, who also has degrees from Embry-Riddle and Stevens Institute of Technology, said he got his FAA license to operate the drones and he plans to focus on personalized service. He took his name from the Stockton mascot because he identifies with the resilient raptor.
"They adapt to their environment, and are fighters, like me," he said with a smile.
Diane Holtzman, Kayes' adviser, said he took the New Ventures class, which promotes entrepreneurship.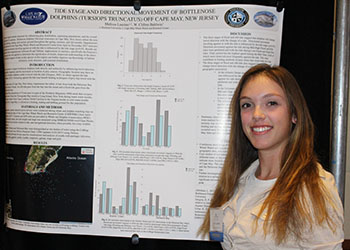 "We try to do experiential learning," she said. "This is his dream."
"With Stockton's help, I am up and running," Kayes said.
Not everyone had a drone to display at the symposium, but the participants did share their stories and results.
Allison Henry of Medford, who is also in the MBA program, developed a social ntifies with the resilient raptor.media, marketing and communication plan for Unexpected Wildlife Refuge in Newfield.
"I'm interested in the environment and they really needed help," she said.
Melissa Laurino, who got her undergraduate degree in marine biology from Stockton, used what she has is learning in the new Master of Science in Data Science and Strategic Analysis program to track whether tide stages the directional movement of bottlenose dolphins in of Cape May County.
Laurino worked and did her research with the Cape May Whale Watch and Research Center this year and discovered tide stages do impact dolphin movement. She said her research could help understand dolphin movement, feeding and migration patterns, and how they interact with tourists and boats in the area.
"This had never been done before," she said. She enrolled in the master's program to learn more about how to use data she was collecting in marine biology.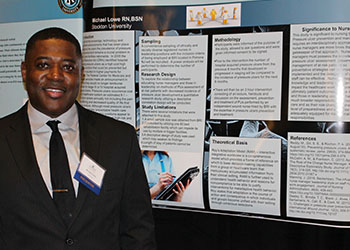 Adam Popowitz of Hightstown, a Distinguished Research Fellowship Recipient in the Doctor of Physical Therapy Program, did a survey at Stockton to see if non-traditional students ages 25 and older face special challenges or "microaggressions" in their pursuit of a health care degree.
He said while the sample was fairly small, his results showed that while professors do believe non-traditional students face more challenges, they also believes those students were often among the best and most dedicated.
Comments indicated that while professors like the experience older students can bring to a program, the non-traditional students said professors don't always acknowledge the challenges a non-traditional student may face.
Some graduate students are developing projects in their fields. Michael Lowe, who is in the Master of Science in Nursing program, wants to address the issue of how to reduce pressure ulcers in patients from a leadership perspective.
"It's not always due to the staff because there may not be enough staff," he said. "Maybe we can educate the leadership on better pressure ulcer prevention."
Amy Beth Glass, director of Graduate Enrollment Management, thanked the students for their dedication.
"Tonight we celebrate your graduate school journey," she said. "It was a journey that took time, energy and a great deal of courage. You have shown determination in investing in your future."
Contact:
Diane D'Amico
Director of News and Media Relations
Galloway, N.J. 08205
Diane.D'Amico@stockton.edu
609-652-4593
stockton.edu/media