Stockton Names Basketball Court for Gerry Matthews to Honor N.J.'s 'Winningest' Coach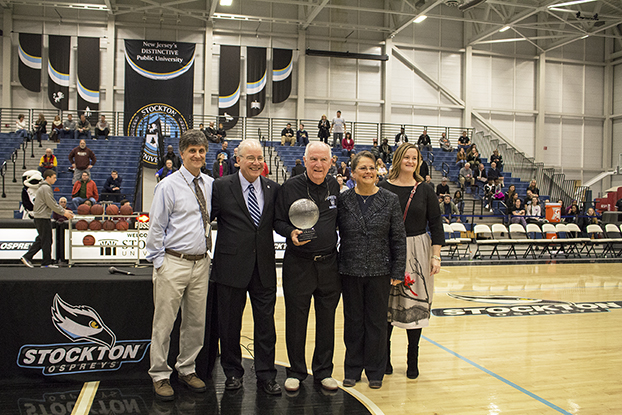 For Immediate Release; photos on Flickr

Contact: Christina Butterfield
News & Media Relations
Galloway, N.J. 08205
Christina.Butterfield@stockton.edu
(609) 626-3845
stockton.edu/media
Galloway, N.J. – Stockton University today named the basketball court in its Sports Center "Gerry Matthews Court" in honor of New Jersey's "winningest" coach.
"Thank you for your 30 years of dedication and service to Stockton's men's basketball program. You have made a difference in countless lives," said President Harvey Kesselman, who presented Matthews with a crystal basketball trophy in a halftime ceremony during Stockton's game against Ramapo.
"On behalf of the Stockton Board of Trustees, our faculty, many of whom are here today, the students and the staff, congratulations, Gerry Matthews - this is for you," continued Kesselman. "This court is now officially named the Gerry Matthews Court."
Cheers and whistles erupted from the crowd of about 603, a fitting number representing each of Matthews' career wins at Stockton.
"This is a great honor," said Matthews in front of family, friends, former colleagues and players.
"We did some great things, and we have a lot of memories here; we cut the nets down here," he said, referring to his teams' multiple NJAC championships. "I can't think of a better place to have spent 30 years coaching than at Stockton."
Matthews thanked Kesselman, the Stockton Athletics program, the Stockton community and his former players, including alumni spanning the 1980s through the new millennium.
Then, Matthews thanked his wife, JoAnne, for her supporting role in Stockton's men's basketball.
"Before Stockton, I was a high school coach on the varsity level for 13 years. When we reached Christmas this year, we actually went away… this was the first time in 48 years I didn't have basketball," he said. "I can honestly say, she never complained about basketball during those 48 years. She may have rolled her eyes at me, but she never complained. We never would have been able to do any of this without her.
"All I can say to everybody is: thank you," said Matthews, in closing.
Nearly 40 alumni members of the men's basketball team attended the event to honor their former coach, who has continued to be a mentor and friend to many.
The former Stockton players towered around Matthews, sharing stories of seasons past.
"We had a lot of laughs," Matthews repeated as he moved from group to group, exchanging bear hugs with players and their families. "We had a lot of laughs."
Matthews' success as a mentor to his student-athletes translated into success on the court, as well.
During his 30-season tenure as head men's basketball coach, Matthews never had a losing season.
He went 603-243 (.713 winning percentage) and was one of just 16 coaches in NCAA Division III history to reach the 600-win plateau.
Matthews led his Osprey teams to nine New Jersey Athletic Conference (NJAC) championships and 16 NCAA Tournament berths. He won conference titles in four different decades (the 1980s, 1990s, 2000s, 2010s).
Matthews notched 18 20-win seasons on the Stockton bench and was voted NJAC Coach of the Year nine times by his peers. His success extended into the NCAA Tournament, where his squads advanced to the NCAA Final Four twice (1987, 2009) and went 25-17 against the nation's best. His teams won at least one NCAA tourney game in 12 of their 16 appearances.
The Sports Center opened in 2000, replacing the I-Wing Gym as the home of the Stockton basketball and volleyball teams. The arena was the site of where Matthews won five of his nine NJAC championships. Stockton also won numerous NCAA Tournament games on its home floor, highlighted by a 103-60 victory over Farmingdale State in 2009 that moved the Ospreys on to the NCAA Final Four.
Gerry Matthews Court is the second Stockton athletic facility to bear the name of a former staff member. The university's track & field/soccer complex was named G. Larry James Stadium in 2007 in honor of the late two-time Olympic medalist who spent 36 years at Stockton in the roles of coach, athletic director and dean.​
# # #