New Display Features Student Organization Flags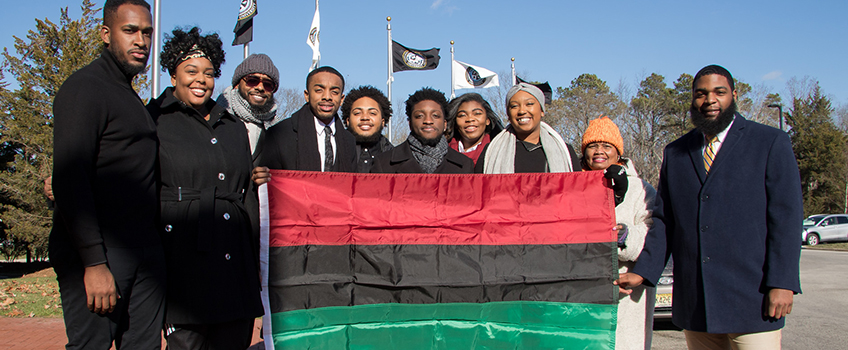 Galloway, NJ - A new flag is flying over Stockton University, the first of many that students and administrators say will help share the University's message of inclusion and diversity.
The Unified Black Students Society, or UBSS, which proposed the permanent flag display, hosted the first flag raising on Dec. 13 in the courtyard outside the Arts and Sciences building. The red, green and black Pan-African flag was raised on one of the 12 flagpoles that line the entrance.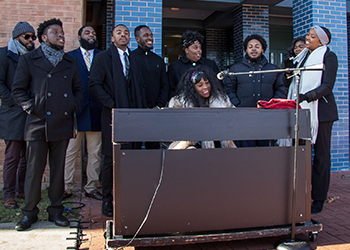 Stockton president Harvey Kesselman praised the UBSS and its president, Mahalia Bazile of Newark, for having the patience and perseverance to help develop the process for student organizations to display a flag at the site.
"I put her through shared governance," Kesselman said of Bazile. "(The proposal) went through Student Senate, and Faculty Senate, the University budget and Buildings and Grounds because there was a cost. But she was always patient. She believed in the system and stuck with it."
He called the day "historic" and said the UBSS has always been key in making things happen on campus.
Senior Ahmad Shepherd-Sloan of Atlantic City came up with the idea when he mentioned at a UBSS meeting that while the flag was annually raised to celebrate Black History Month in February, it always came down at the end of the month. He said he also noticed that clubs can use their platform to help advance the University.
"We are black every day on campus," he said. "Why isn't the flag up all year long?"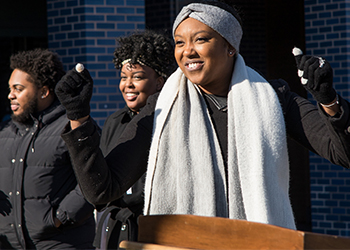 Bazile said her first reaction was that it has always been up for just a month. But then she realized that wasn't a good enough answer. She met with officials in Student Development and discovered there were no specific guidelines for permanently flying flags on campus. That has now changed.
"The flag representing Pan-African students should be represented 365 days a year," Bazile said. "We set a precedent that just because things are the way they are, that doesn't mean they have to stay that way."
Incoming UBSS president Haashim Smith-Johnson of Camden said the flag is a symbol of the fight for all humanity.
"It represents the journey of slaves," he said. "But we must not forget the love and culture it also embodies. We will not stop putting words into action."
Dean of Students Pedro Santana said other groups that typically raise flags during the year, including the Pride Alliance and Los Latinos Unidos, have also expressed interest in having a permanent flag at the site. Guidelines and an application are now available through the Office of Student Development.
Don Hudson, vice president for facilities and operations, said each of the 12 flagpoles can hold more than one flag, and if down the road more are needed, the University can also develop a plan to add more poles.
Shepherd-Johnson said while he knew the University would be supportive of the idea, he is still thrilled that they were able to accomplish their goal quickly enough so that he could participate before he graduates.
"This is a dream come true," he said. "I knew we could get it done, but I'm a senior, and didn't know if it would be done in time."
To view a gallery of photos from the event, click flickr.
To view a video of Mahalia Bazile talking about the project, click on youtube.
Contact:
Diane D'Amico
Director of News and Media Relations
Galloway, N.J. 08205
Diane.D'Amico@stockton.edu
609-652-4593
stockton.edu/media