Flag Football Team Headed to National Competition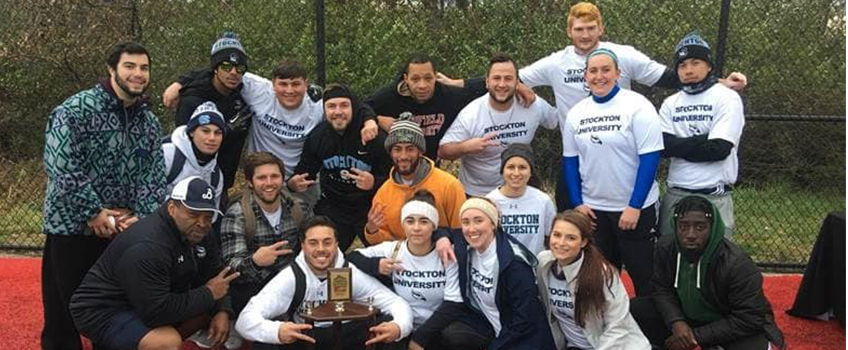 Galloway, NJ _ Stockton's football team is heading to a national competition.
What football team, you ask?
The flag football team, of course.
The intramural co-ed team qualified to compete in the National Intramural-Recreational Sports Association (NIRSA) Co-Rec Flag Football National Tournament at the University of West Florida in Pensacola on Jan. 5-7. The team won both the state and regional competitions to qualify.
The team also qualified for the nationals last year, but did not win. Team captain Brandon Hammons from Moorestown said he hopes what they learned from their previous trip will help them win this year.
"We are much better prepared this year," he said. "Since I've been here we've taken it very seriously, with regular practices."
Hammons, a marketing major, said he played football in high school, but it's not a requirement. He said he recruited female players through other intramural sports at Stockton.
He said having a co-ed team is an advantage since fewer colleges have them and Stockton can be more competitive. Other team members are Mario Labrizzi-Laing, Coach, Ryan Tiefenbacher, Rachel Fordham, AJ Russo, Tyler Breznak, Kat Papalas, Isabella de Diego, Marcus Miller, Kay Boateng, Paige Brown, Mimi Maldonado, Larry Mays., Kristen Wright, Abby Waid, Fred Rasmussen, Allison Johnson, Alec Sabol, Anfernee Graham, PJ Mellaci, and Nick Consolo.
Before they can go, they need to raise money for the trip, some $6,000. The team has set up a fund-raising web site at elevate.stockton.edu/project/8891.
Hammons joined the team in his freshman year, then took over his sophomore year after seniors graduated. He will graduate this year, and hopes to go out on a high note.
"I really want to bring home our first Co-Rec Flag Football National Tournament Title," he said.
Contact:
Diane D'Amico
Director of News and Media Relations
Galloway, N.J. 08205
Diane.D'Amico@stockton.edu
609-652-4593
stockton.edu/media