Experience Dance Day Draws Record Number of Students, Inspires them to Dance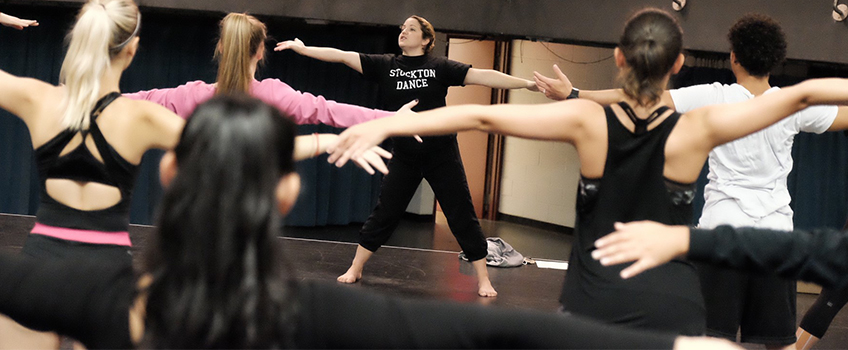 Galloway, NJ – Plié, passé and a dash of hip hop filled the halls of Stockton University on Oct. 27, as some 180 high school dancers from the tri-state area congregated in every corner of the Galloway campus to participate in Experience Dance Day.
The University's two dance studios and the C-D Wing Atrium were among seven locations across campus where students, hungry to perform, got to show their passion for dance.
"It's so inspiring," Luis Sanchez, 17, said after showing off his moves during hip-hop class in the I Wing gym.
Once a year, Stockton's dance program, offers high school juniors and seniors the opportunity to visit the university and take collegiate level classes with faculty members and professional performers and instructors. Following classes, the students and instructors participate in a question and answer session about the dance program and the audition process.
Sanchez's love for dance drew the Charter Tech High School student to the event.
Annie Noe, 16, from Neshaminy, P.A. made the 90 minute journey to Stockton because of her interest in the school's dance program.
"I love the program today," said Noe as she removed her ballet slippers after class in the M Wing dance studio. "It's a great chance to meet the professors and teachers and to get to know what (the program) is all about."
Throughout the day, Noe, Sanchez and other participants took classes in Ballet, Modern, Jazz, Contemporary, Improvisation, Hip-Hop and Pilates taught by a host of professional performers and instructors including Stockton dance faculty and guests.
Stockton faculty include professional performer and former member of the Clancy Works Dance Company Caitlin Quinn Pittenger, award-winning choreographer and company dancer Beau Hancock, former member of the Cincinnati Ballet and the Dance Theater of Harlem Chandra Moss-Thorne and experienced educator and Artistic Director of Gushue Moving Arts Rebecca Gushue.
Guests included alumnus and professional dancer and choreographer Gabriel Reyes, professional ballet dancer Caroline Fermin and New York City performer and teacher Ellie Goudie-Averill.
Rain Ross, associate professor of dance and Performing Arts program coordinator, believes the experience is vital for students interested in dancing at the next level.
"For many of these students, it's their only college visit," said Ross. "We give them the opportunity to get a taste of what it would be like to study dance in college." "We hope to make it an experience that will encourage them to pursue their degree and further their education."
For 17-year-old Samantha Schenck, a junior at Mainland Regional High School in Linwood, the experience was life changing.
"(The program) was amazing," said Schenck, who aspires to become a professional dancer. "Before today, I was thinking of not going to college, but being here has made me consider it."
Grace McGlinchey, 16 of Berlin in Camden County also aspires to dance professionally. When asked whether she would like to dance on Broadway, for a company or in shows, McGlinchey replied "all of the above," as she sat center stage in the Performing Arts Center after finishing up a contemporary dance class.
Ross said the dance program at Stockton is thriving, with about 75 dance majors and minors, plus dozens of other students taking individual classes within the department.
"Our growing program is filled with talented and hard-working students who are excited to learn as much about dance as they can," Ross said.
Along with training from experienced and talented faculty, students also have the opportunity to learn from guest choreographers, performers and instructors, including those from companies like Lehrer Dance and Robert Moses' Kin, who have participated in the two-week dance program residency hosted by Stockton each year.
"These opportunities, along with our high level of professional training has made Stockton a top choice for students to study dance in college," Ross said. "One of the highlights of our program is that we emphasize the Liberal Arts. While students receive excellent training as dancers, they also receive a breadth of education, giving them skills beyond dancing."
Two popular tracks within the program include Dance Pre-Physical Therapy, where students get both the academics needed for Physical Therapy plus dance training; and Studio Operations, which allows students to study dance and business, giving them greater skills for running their own studios and teaching in studios when they graduate.
Just as the dance program at Stockton prepares Stockton students for what lies ahead, the school's Experience Dance Day gives young dancers a chance to learn more about college life, collegiate dance classes and helps to prepare them for their next step.
"I learned so much for today's program," said 17 year old Megan Matullo, who attends the Ocean County Vocational Technical School's Performing Arts Academy in Lakehurst, Ocean County. "It really helped me step out of my comfort zone, which I know will really help me in the future."
For more information about Stockton's dance program, including auditions, visit Dance at Stockton.
_ Story reported by Marielena Dottoli
# # #
Contact:
Diane D'Amico
Director of News and Media Relations
Galloway, N.J. 08205
Diane.D'Amico@Stockton.edu
609-652-4593
stockton.edu/media